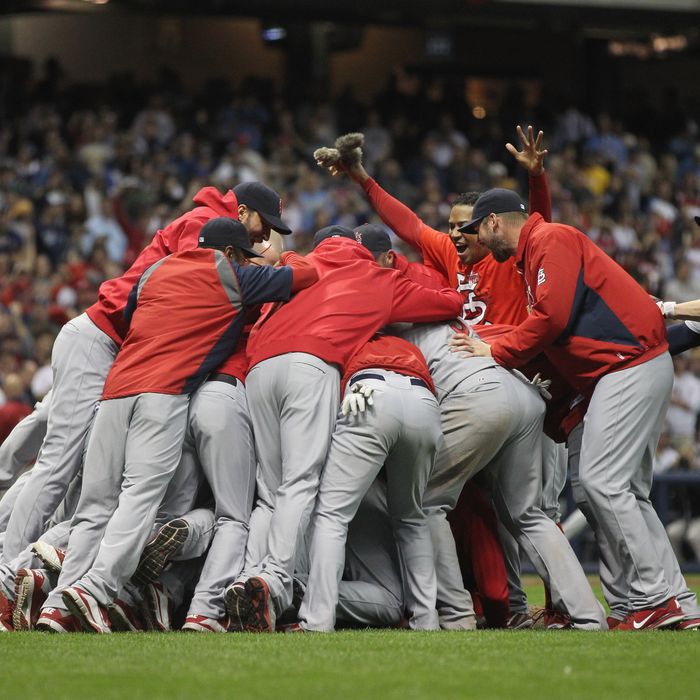 The Cardinals celebrate their National League championship last night.
Last night's 12-6 Cardinals win in Milwaukee means that the 2011 World Series matchup is now set: On Wednesday night, the National League champion Cards will host the American League champion Rangers in Game One. Will is going to be writing about the World Series beginning Wednesday, but right now he's still putting the finishing touches on his David Freese scrapbook. So for now, we'll make just two points about the series.
One is that we're reminded again today how silly it is that baseball uses the All-Star game to determine home-field advantage in the World Series. Because the National League won this year's game, the Cardinals (a Wild Card team that won 90 games) will have home field over the Rangers (a division winner that won 96 games). And please don't tell us that knowing which league will host the game matters for logistical purposes, since the site of Game One wasn't determined until last night anyway, and wouldn't have been determined until tonight if Milwaukee had won Game Six.
The other is that the Cardinals are going to the World Series not because of their starting pitching — none of their starters lasted more than five innings in this series — but on the strength of their bullpen and bats. Which, if you'll recall, is how the Yankees had hoped to get back to the World Series this year. The difference, of course, is that the Cardinals' big hitters actually hit: Albert Pujols had an OPS of 1.469 in the NLCS, and Matt Holliday had an OPS of 1.152. Meanwhile, there was no shortage of Yankees who didn't hit in the ALDS against Detroit, most notably Alex Rodriguez and Mark Teixeira.
Of course, there's one other key difference between the Cardinals and Yankees: The Cardinals had a lucky squirrel on their side, while it's been years since the Yankees had one of those.