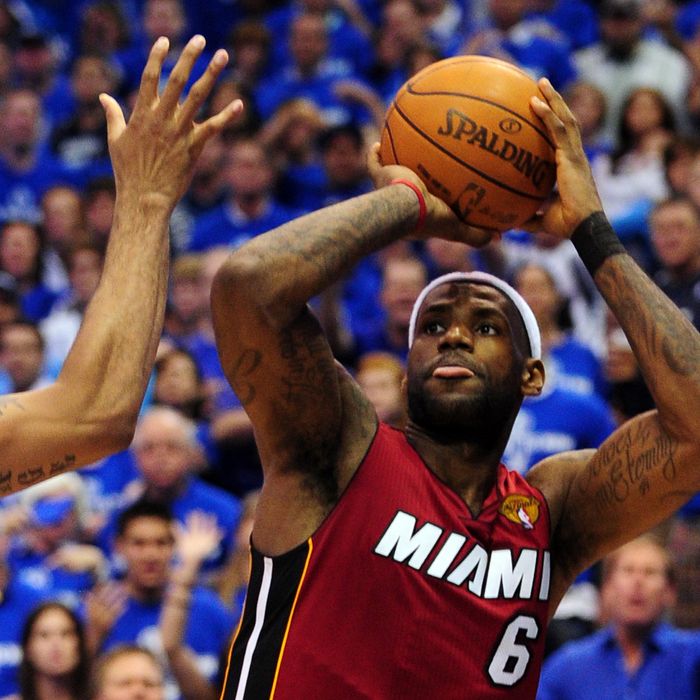 It's probably not giving away too much about a jeremiad entitled The Whore of Akron to reveal that its writer, Scott Raab, despises LeBron James, the Akron-born NBA star who abandoned the author's begrimed and noble hometown of Cleveland for a fresh start in Miami. He's a "total dickweed," writes Raab, "a fraud," "a feckless child." In fact, his enmity is so pitched, so unabashed, so invigoratingly extreme, and so devoid of conventional pieties, that he prays that James suffer a career-ending injury during his first game for the Heat. He regrets that back in Cleveland he didn't "haul off and kick [James] square in the nuts."
James is not the sole object of ire in this splenetic wonder. Raab describes Art Modell, the infirm tycoon who spirited the original Browns out of Cleveland in 1996 as "a cross between Shylock and Bernie Madoff, a vile creature … may he suffer another decade of strokes and spend eternity tonguing Satan's flaming anus." Tim Donovan, the head of PR for the Heat, is "a gimlet-eyed prick." He accuses ESPN correspondents Jim Gray and Michael Wilbon of having "fellated" James on national TV. As for the network itself, Raab decries it for being in bed with the players it purports to cover, which may explain why we haven't seen the writer talking about The Whore of Akron on one of ESPN's innumerable forums for sporting bloviation.
As far as sportswriting goes, these are not the standard-issue bromides of Mitch Albom. This is The Five People You Meet in Hell.
One of them is Raab himself, descended from "a paternal line of Jews who weren't doctors or lawyers." What distinguishes his harangue from that of a resentful fan bitching on WFAN about overpaid, underperforming players is a level of self-caricature reminiscent of another great bard of Cleveland, Harvey Pekar, the late author of the American Splendor comic books.
Raab lugs himself from one arena to the next, huffing and puffing in his Crocs, a makeshift member of the sporting press, a true lumpenproletariat if there ever was one. "Santa Claus," deadpans Shaquille O'Neal on meeting the full-bellied, white-bearded author. Raab confesses that the physical summit of his day is a decent bowel movement. He clambers onto the bed so that his beloved wife can provide him with hand-jobs, though his encomiums to her vagina ("her snatch smelled like a Moroccan bazaar") could make Larry Flynt turn over in his wheelchair.
In contrast to such a broken down specimen— Raab is the living embodiment of hard-bitten Cleveland— there are the beautiful young black men of the NBA, most notably LeBron James himself: "A masterpiece. Hewn of sinew, apparently as impervious as iron." Raab qualifies his admiration with a quick peek at James's manhood, which leaves him underwhelmed. (What is it with memoirists these days casting dick aspersions? See Keith Richards's take-down of Mick Jagger's "tiny dodger" in Life.)
Later in the book, a midnight dialogue ensues between Raab and the shade of LeBron, who asks his tormentor (among other things), "Why would you write about my cock?"
"You fucked up—you quit," Raab answers. "You lied. You left."
At the heart of Raab's anger, and at the center of his bitter lament, is actually a strange affinity between James and his scourge. Both grew up with absent fathers and difficult mothers. Both enjoy talents that have taken them far from Cleveland. But James has refused so far to shoulder responsibility for his failures on the court  in the way that Raab, a former addict, has done in life. He answers only to himself. James serves for Raab as an object lesson in the dangers of narcissism, the perils of being a boy-man who, surrounded by fawning porters on the gravy train of dreams, may never grow up. "If you were raising a child," the former Cavalier center Jim Chones asks Raab, "would you always give that child everything he wanted?"
For all of its rousing, air-clearing invective, The Whore of Akron is strangely celebratory,  making a particularly Jewish–American case for family and place, and for waiting and hoping past the point of reason. In Scott Raab's cosmos, where championship seasons seem about as likely as the arrival of the messiah, next year in Jerusalem might as well be next year in Cleveland. He suggests that there is nevertheless redemption to be had in grinding away at life, at parenthood, at work, and in loving something more than yourself until that longed-for day when victory arrives. Or doesn't. Don't hold a gaudy festival of self and flee to Miami, for instance. Stay in Cleveland and suffer.