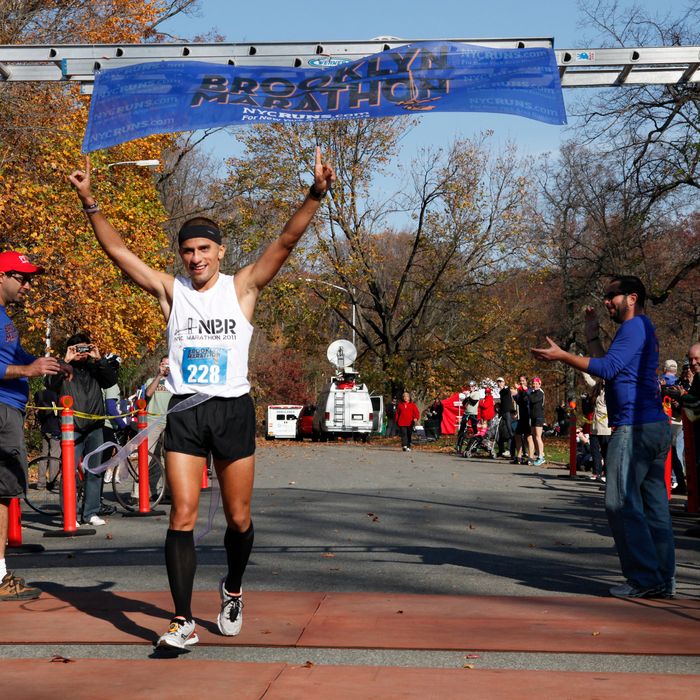 John Paul Montes crosses the finish line in first place at the inaugural Brooklyn Marathon.
Twenty minutes before the start of the 41st annual ING New York City Marathon on November 6, runners were lined up neatly at the starting line, having risen before dawn, taken ferries and buses to Staten Island, and been herded from corral to corral for roughly two hours. Contrast that with the scene twenty minutes before the scheduled start of the first-ever Brooklyn Marathon yesterday: Runners were milling around Prospect Park's Center Drive when race organizer Steve Lastoe grabbed a megaphone and made an announcement: "I think we're going to push the start back a few minutes and let everybody go to the bathroom," he said. "Is everybody cool with that?" Safe to say, the Brooklyn race's inaugural running was a decidedly less ceremonious affair.
The citywide race two weeks earlier had a course that visited all five boroughs and boasted a field of 47,000 runners, including the Kenyan-born holder of the fastest marathon time in history. Brooklyn, meanwhile, had six full laps of Prospect Park plus three partial ones. Some Brooklyn Marathon participants said they came out of curiosity; others, civic pride. But none of the 400 runners were there for the prize money. After all, there wasn't any.
As racers drifted to the starting line, last-minute instructions included a warning to watch for bikes, cars, babies, and strollers. An air horn blew and the runners took off, leaving behind a small cluster of spectators. A volunteer cleared horse manure off the road with a piece of cardboard.
Meanwhile, City Council members Letitia James and Brad Lander worked the crowd. Both said they hoped future years' marathons could get the permits necessary to leave the park, though overtime pay for police is a stumbling block. Still, James said, her ideal course would pass through a diverse assortment of neighborhoods. "Down Flatbush Avenue – how about that?" she said.
Even after the race began, life in Prospect Park went on as usual – dogs were walked and strollers pushed, mostly with little regard for the marathoners now working their way around the park's 3.35-mile loop. The race drew some enthusiasts, though: Near Grand Army Plaza, at the top of the park's steepest hill, members of the North Brooklyn Runners Club handed racers red licorice sticks. And back on Center Drive, volunteers were setting up the finish line. Granville Murrell, 62 years old and a former Erasmus High School runner, said he heard about the race and had to come watch. "I prayed for this day," he said, beaming. "A marathon in Brooklyn!"
Minutes and hours ticked by. A nervous-looking man named Lou Montes paced near one of the water stations. His son John Paul, he said, had been running in first or second place. "He wasn't gonna run," said Montes, who lives in Carroll Gardens and coached track at John Jay High School for 30 years. "But I said, 'John, it's the first one they're doing – you never know.'"
He hurried to the finish line, where word soon arrived that the lead runner was approaching. The crowd hushed a bit, eyeing the turn in the road where the winner would appear. A white-shirted figure burst into view, moving very quickly, and Montes erupted. "Yeah, John!" he shouted. "Brooklyn! Brooklyn!" John Paul Montes crossed the finish line with a winning time of 2 hours, 43 minutes and 14 seconds. (Kelly Gillen, a resident of the Upper East Side, would finish first among women with a time of 3:14:31.)
Just past the line, John Paul Montes smiled at the idea of a Brooklynite winning the first Brooklyn race, humble as it was. "I said, 'Lemme hit the podium, because you never know if 25 years down the road it's 25,000 people,'" he said. "I can say I held the course record, before the Ethiopians showed up."