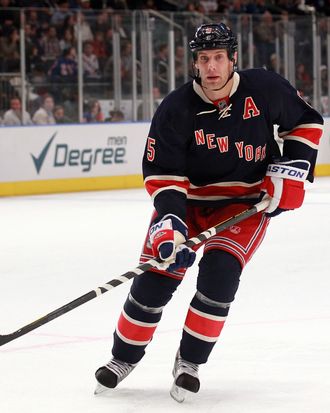 As last night's Rangers victory drew to a close, John Tortorella went down the bench and gave his players a congratulatory smack — a gesture that recognized the effort of a team about to win its fourth straight game. In a sense, you could consider last night the true end to a bizarre start to the season, one that included a long, international road trip, followed by a lengthy homestand to make up for it. The Rangers finished that homestand 4-1-1, and now that they're settling into the normal routine of an NHL season, this seems like a good time to look at five encouraging signs from the first thirteen games of a season that began exactly a month ago today.
• In broad terms, they deserve credit for putting together a respectable 7-3-3 record without Marc Staal, whose importance to this team shouldn't be underestimated. And much of that credit should go to Dan Girardi, Staal's regular defense partner who has stepped up in his absence: Girardi currently leads non-goalies in minutes per game — and is more than 30 seconds ahead of the next-closest player.
• Perhaps the most pleasant surprise of the season has been Ryan McDonagh, who not only has moved up to the top defensive pair, but has impressed us with his willingness to get involved in the offense end. He already has three goals and three assists on the season — last year, he finished with one goal and eight assists in 40 games — but those stats don't quite capture how confident he appears to be handling the puck this season.
• Other young players are progressing nicely as well. Derek Stepan, for instance, had a terrific weekend, setting up goals with some perfect passes and generally clicking with Marian Gaborik. And Michael Del Zotto, one of the bigger question marks on this roster when the season began, has been better than he was in his disappointing sophomore season, and is tied for the team lead in plus-minus.
• Speaking of Gaborik: He's been outstanding this season, and hasn't necessarily required Brad Richards skating on his line to improve upon his disappointing 2010-11 campaign. He's averaging a point a game so far.
• Henrik Lundqvist is having a typically strong season, but we'll repeat that it's crucial for this team to have a reliable backup that Tortorella is willing to use often enough to put a real dent in Lundqvist's workload. And Martin Biron, who'd been stellar last season until he got hurt, is off to a strong start this year, winning each of his first three starts. (It's probably worth noting, though, that two of those three wins came against Winnipeg, currently the last-place team in the Southeast Division.)
Which isn't to say all is well: Brandon Dubinsky has yet to score a goal, the sixth defenseman spot (currently held by Jeff Woywitka) is hardly set in stone, and though the power play has shown signs of life, it needs to produce more goals than it has been. (It currently ranks 25th in the league.) Also: Staal's health remains a concern (perhaps this team's biggest), and it'll be a while before we forget the three-goal lead they squandered against Ottawa a week ago Saturday. But all things considered, the Rangers have reason to feel better about themselves today, at the end of their homestand, than they did at the beginning of it. And perhaps that's only logical, though for a team that won fewer than half its home games last year, it's nice to be able to say it nonetheless.