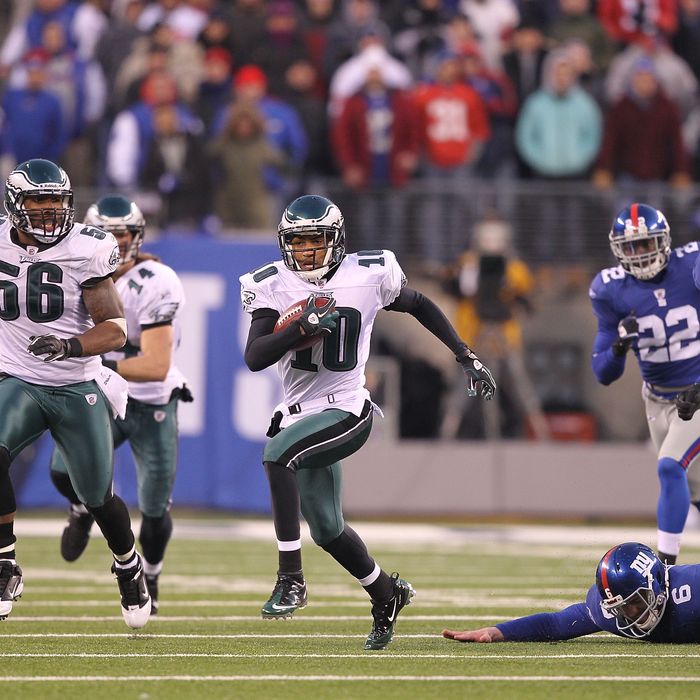 It's still a little hard to believe that the race for the NFC East title looks like it'll come down to the Giants and a team that's not the Eagles, but that's where we are in Week Ten: The Giants sit atop of the NFC East with a 6-3 record, Dallas is a game behind them at 5-4, and those Eagles are tied with Washington at 3-6. Much has been made about how the Giants can just about bury the Eagles this week, and make no mistake, that would be a wonderful side-effect of a win on Sunday. But the Giants need that win for their own sake, too: The Cowboys have the easier schedule over the final seven weeks, and the Giants need every victory they can get.
The Eagles are a mess right now: Michael Vick is hurting (one report says he's already been ruled out for Sunday), and last week, they got Skelton'd™ in the fourth quarter at home against the Cardinals. The Giants, meanwhile, have to be generally pleased with how the first two games of their brutal mid-season stretch have gone: They won at New England two weeks ago, and suffered a not-entirely-discouraging loss to now 8-1 San Francisco last week. Perhaps the Eagles are still more dangerous than their record would indicate, but this is a game the Giants should win. And don't forget, before the Giants and Cowboys finally face each other on December 11, the Giants will play the Saints and Packers (combined wins: sixteen), while the Cowboys get the Dolphins and Cardinals (combined wins: five). We can't believe we're saying this, but Sunday's game against the Eagles is the easiest matchup the Giants will have for a while.
The Giants have a chance on Sunday to just about bury the "Dream Team" Eagles, and to get some revenge for that awful, awful loss to Philly at the Meadowlands last season. (Did you know that friggin' game has its own Wikipedia page? Because apparently it does.) But more importantly, with the Giants' schedule about to get awfully difficult yet again, they have a chance to stay a game ahead of the Cowboys, even if Dallas beats the Redskins on Sunday afternoon.