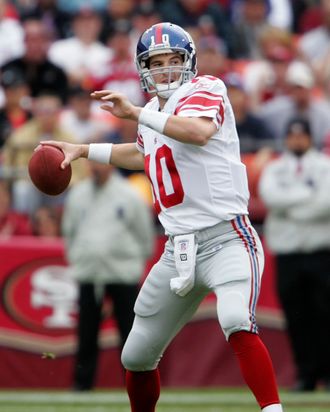 Eli Manning in San Francisco in 2005.
The Giants have played half of their sixteen games, so now seems like a good time to consider how much the perception of this team has changed since the preseason. Multiple injuries — not to mention a couple of players lost via free-agency — meant plenty of bad vibes then, and their Week One loss to Washington didn't do much to boost anyone's confidence. But now, at the halfway point of the regular season, things are going as well as anyone could have hoped: At 6-2, they're two games ahead of the second-place team in the NFC East, and their brutal mid-season stretch began with a thrilling win over New England last week.
In a blog post over at USA Today, you can even read the words "championship contenders" in connection with the Giants. Now, it might still be a little early for Super Bowl dreams, though we guess a broad enough definition of the term "championship contenders" would include any team with a 6-2 record, no matter how it was achieved. (Remember, they faced some weak opponents in the early going, and while they pulled out a victory against a good, if mortal, Patriots team, there are several big tests remaining.) But rather than be worried about what will happen to the Giants over the next several weeks, fans have reasons to be excited to learn what this team is capable of.
This week, the Giants travel to San Francisco to face the 49ers, who at 7-1 have a ridiculous five-game lead in the NFC West.  The good news for the Giants is that Hakeem Nicks is practicing again. The bad news is that Ahmad Bradshaw isn't, and the Giants could really use him against San Francisco's terrific run defense. (The Niners have allowed the fewest rushing yards per game in the NFL.) Last week, the Giants won a game so exciting that this happened in the Gillette Stadium locker room, and this happened at the Fox studios. Now, let's see what they do for an encore.