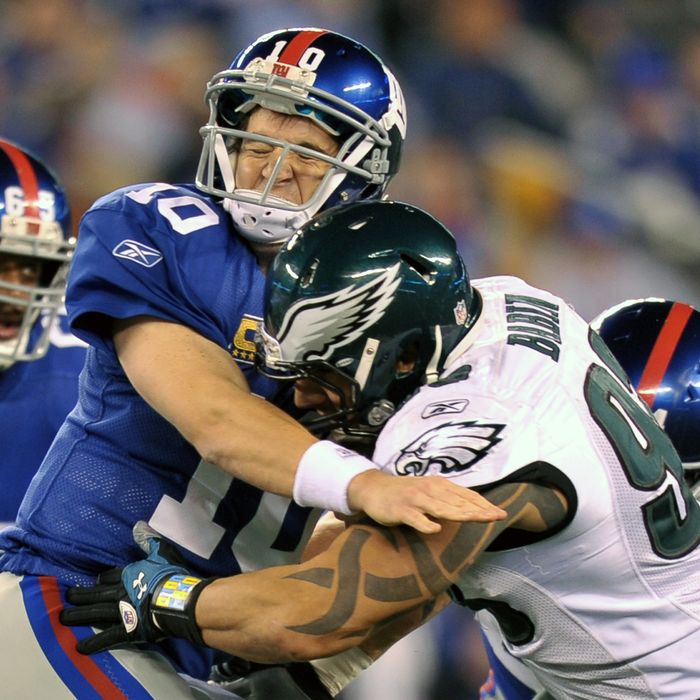 Eli Manning is hit by Jason Babin last night.
The Giants knew going into last night's game with the Eagles that they'd need a win to remain a game ahead of Dallas, who'd beaten Washington earlier in the day. And surely they knew how important it was to stay ahead of the Cowboys: Dallas has a relatively easy schedule over the next two weeks, while the Giants have to play New Orleans and Green Bay. But last night, the Giants hardly looked like a team hungry to bury the Eagles and keep sole possession of first place in the NFC East. Instead, the desperate Eagles came into MetLife Stadium and handed the Giants a 17-10 loss, and that score doesn't even do justice to just how ugly the Giants looked last night.
Where to begin? Eli Manning wasn't very good, but neither was the offensive line charged with protecting him. Meanwhile, on the other side of the ball, Vince Young — starting in place of an injured Michael Vick — had all the time in the world to throw last night. The Giants' running game was just brutal, which is to say that Brandon Jacobs and his 1.8 yards per carry made us realize how badly this team needs Ahmad Bradshaw back. And then there were the dropped passes by Jake Ballard. It was the kind of the night where you think to yourself, "Hey, at least Steve Weatherford got off a couple really good punts," and then you begin to cry a little.
The defense picked off Young three times, but it also let him march 91 yards over nearly nine minutes in the fourth quarter. And after Philly scored on that drive to make it 17-10, the Giants final possession ended with Eli Manning getting hit and fumbling the ball. As badly as the Giants played last night, they had a chance to tie the score in the final minutes. But make no mistake: They didn't deserve to win. They deserved their fate last night.
The Eagles have been a mess of late, but even without Vick, they made the Giants look bad in their own stadium — on national TV, no less. Falling behind every week and relying on your quarterback to work some fourth-quarter magic is no way to operate, and for the second week in a row, the Giants came up short. The Giants next visit New Orleans a week from today, and they'll be desperate to prove they're not in the midst of another second-half collapse. Because while last week's road loss to a really good 49ers team might not have been all that discouraging, the same can't be said for what happened last night at the Meadowlands.