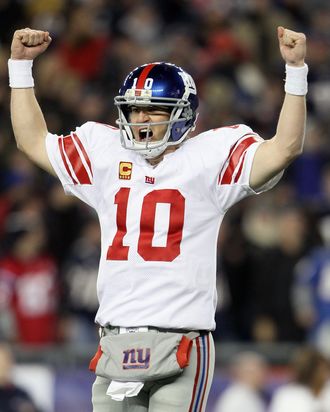 Much was made during the offseason about Eli Manning saying he belonged in a class with Tom Brady. It's the type of comment that sports talk radio was invented to dissect. But those kind of categorizations only mean so much, because even if Eli Manning is a notch below Brady on the hierarchy of NFL quarterbacks, he's still a damn good one — someone who's capable of, say, leading a game-winning drive like he did yesterday in New England.
And so just like he did in Super Bowl XLII, Manning followed a late New England score with a game-winning drive, this one culminating in a touchdown pass to Jake Ballard with fifteen seconds remaining, shortly after a pass interference call gave the Giants the ball on the one-yard line. (We really can't say enough good things about Ballard, whose pass-catching has far exceeded expectations.) For a game that was tied 0-0 at the half, this one got awfully exciting in the fourth quarter. And it was Eli and the shorthanded Giants who came out on top, 24-20.
The stakes may not have been as high as they were in Super Bowl XLII, but yesterday we witnessed a signature win for both Manning and this Giants team. The Patriots, of course, had won 20 regular-season home games in a row; Tom Brady had won 31 regular-season home starts in a row. And the Giants entered the game even more shorthanded than usual, missing several key members of their offense.
Not that Eli and his offense deserves all the credit: The Giants defense often made things tough for Tom Brady and company. (Brady threw two interceptions, and also lost a fumble.) But that the Giants survived the wild second half — never has returning a punt seemed so difficult — tells us more about this team than we could have learned watching them rally against the likes of Arizona and Miami.
The 6-2 Giants still have a tough schedule ahead of them: They next play 7-1 San Francisco on the road. But you could forgive members of the Giants — who lifted Tom Coughlin up on their shoulders in the Gillette Stadium locker room yesterday — for wanting to enjoy this one for a little while.