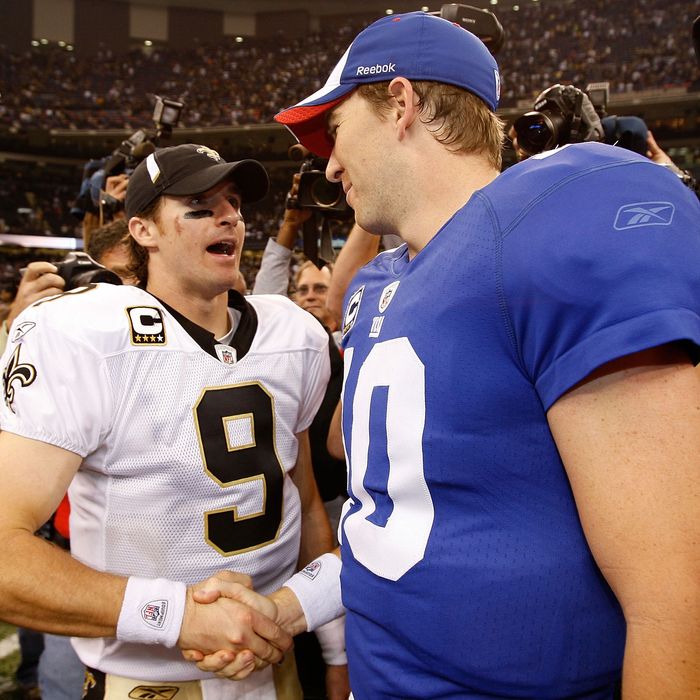 Drew Brees and Eli Manning after a 2009 game at the Superdome that you might have blocked from your memory.
Brandon Jacobs complained last week about Giants fans booing during the team's ugly Sunday Night Football loss to the Eagles. (To which we'd say, really? This discussion again?) But surely Jacobs understands that when the Giants visit the Superdome tonight, they won't hear boos if they play the way they did against the Eagles. Instead, they will hear laughter at the expense of their running game, and they'll hear the hometown cheers that will result from giving Drew Brees the kind of time to operate that they gave Vince Young last week. Presumably, Jacobs doesn't want to hear those things, either.
The Giants need a win tonight to keep pace with the Cowboys, and it's no secret that they have their work cut out for them this week and next. Dallas has done the Giants no favors over the past two weeks, barely squeaking by a pair of inferior opponents, but squeaking by them nonetheless. And so a Giants loss tonight means that, even if Dallas loses to Arizona next week, the Giants would need to beat Green Bay to enter their huge Week Fourteen game against the Cowboys with even a share of the division lead.
Look, New Orleans isn't unbeatable: They're undefeated at home this season, but two of their three losses came to teams currently below .500. And let's not forget that Eli Manning is having what might be his best season, though he'll need better protection than he got last week if he's to have any chance of leading an effective offense. The Giants remain an impossible team to figure out: They can hang with New England on the road, then pull off a thrilling victory late in the fourth quarter. But then, just two weeks later, they can look so completely out of whack in a game against the Michael Vick-less Eagles. Perhaps that kind of inconsistency is the mark of a decent, but not great, team. But they'll need to be better than decent over the final six games if they hope to return to the postseason.