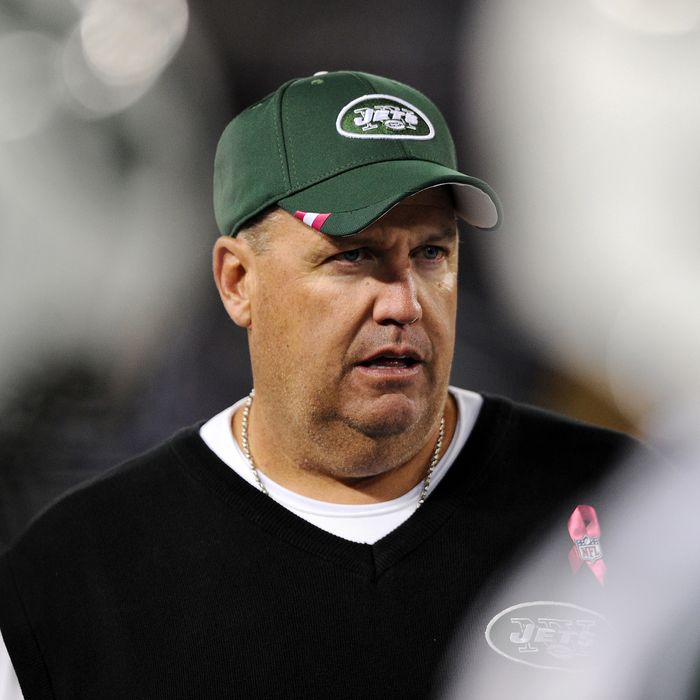 The Jets team their fans have been waiting for finally showed up on Sunday, pounding the Bills and putting themselves in prime position not only to win the AFC East, but to end up with the top overall seed in the AFC. If the Jets can beat the reeling Patriots on Sunday night — which is always a tall order — it's downright difficult to see, barring a total collapse, how they don't end up with the conference's best record.
Sure, sure, there are four teams (Baltimore, Houston, Pittsburgh, and Cincinnati) with better records, and the Jets are currently tied with the Bills and the Patriots. But a win on Sunday would put the Jets in an ideal position, having already run through the most difficult part of their schedule ensconced in first place.
You can make a pretty strong argument that, if they win on Sunday, the Jets will lose just one more game the rest of the season, tops. Check out this schedule:
November 17: at Denver
November 27: Buffalo
December 4: at Washington
December 11: Kansas City
December 18: at Philadelphia
December 24: NY Giants
January 1: Miami
We see five rather slam-dunk wins there, including four right in a row after this week, which (again, with a win over New England) would give the Jets eight wins in a row to put them at 10-3 going into Philadelphia on December 18. The only team above the Jets in the standings with a legitimate shot at having the same record by then is Baltimore. They need to get a game ahead of Baltimore, because the Ravens beat the Jets in Week Four and therefore have the tiebreaker.
If the Jets can beat an inconsistent — and, by that point, potentially collapsed — Eagles team, they'd face the most intriguing and important whatever-they-decide-the-name-of-this-series-is game in a decade. (And the Giants could be playing for a playoff home game or two of their own.) Obviously, a lot of strange things happen in a football season, and this whole post could look silly in three weeks, or two, or one. But the way the Jets played against the Bills on Sunday has fans dreaming big. The opportunity is there.