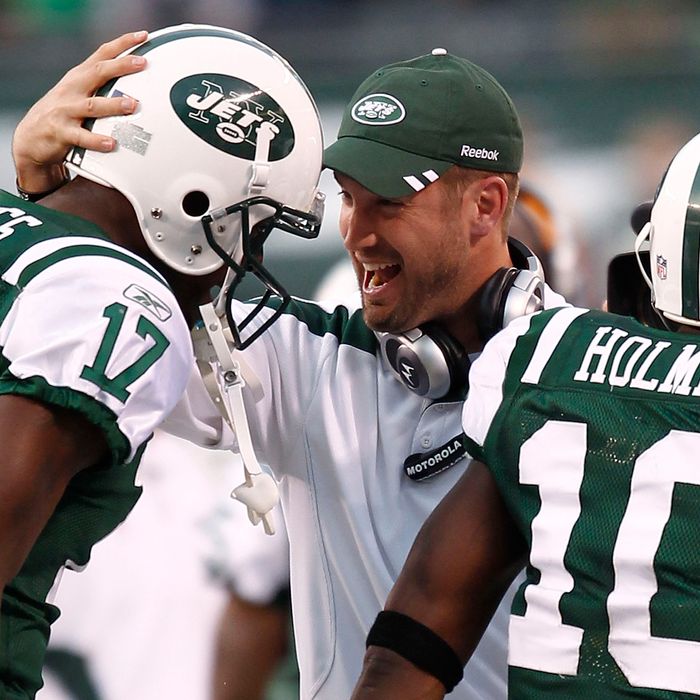 Plaxico Burress, Brian Schottenheimer, and Santonio Holmes.
The Jets can't afford to lose many more games if they're going to make the playoffs, and after coming off deflating losses to New England and Denver, they desperately needed a win yesterday against Buffalo. They got that win — a 28-24 final — and, not to take away from what any of the Jets did to earn that victory, but, man, they should all send Stevie Johnson a nice thank-you note this morning.
Johnson's first gift to the Jets came toward the end of the first half. A brutal Mark Sanchez interception gave the ball to Buffalo at the Jets' twenty, and after Johnson's touchdown with 2:06 remaining, he was flagged for excessive celebration. Johnson, you see, celebrated his score by miming shooting himself in the thigh, and then, for good measure, mimicked Santonio Holmes's "flying jet" celebration, except Johnson's version ended with a crash landing. And so that penalty, coupled with a botched kick-off from the twenty-yard line, gave Sanchez terrific field position, and he capitalized with a touchdown pass to Plaxico Burress to tie the score at fourteen heading into halftime.
But Johnson's day would get worse still. With just over a minute to go in the game, Sanchez threw his fourth touchdown pass of the day, connecting with a wide-open Holmes, and the ensuing extra point gave the Jets a four-point lead. (It's here we'll also note that just seconds earlier, Burress made a spectacular catch on third-and-eleven to keep the Jets marching downfield. It was a nice drive for the targets of Johnson's misguided celebration.) But enough time remained for one final Bills drive, and if a wide-open Johnson hadn't dropped a pass at the 25-yard line, it might very well have culminated with a touchdown. But Johnson did drop that pass — go ahead and watch it here, over and over again — and the Bills never would get into the end zone on that drive. The Jets had survived.
The main theme of this Jets season might be that, for all the talking they've done over the past few years, they still haven't taken the next step. Perhaps yesterday's win will serve as something of a turning point, but make no mistake, they still have a ways to go if they're going to justify all the swagger. If the Jets were rolling towards a postseason berth right now, this game would stand out among all the wins because of Johnson's antics in the second quarter, and because of his dropped pass in the fourth. But as poetic as the finish to yesterday's game was, that's all secondary to the final score. Getting the last laugh is nice, but right now, picking up a much-needed win is nicer.