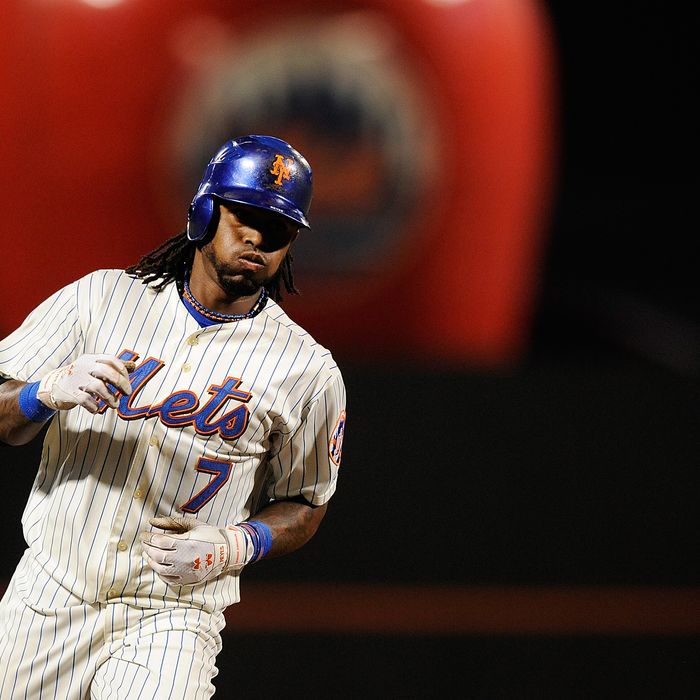 If you're a Mets fan — especially if you're a Mets fan on Twitter — you've probably come to terms with Jose Reyes leaving New York, probably to sign with the Marlins. In fact, if you haven't checked in since last night, you might think Reyes's future in one of these handsome ensembles has already been cemented. Well, as of right now, that's not the case. Despite a profusion of rumors that peaked Sunday evening, Jose Reyes has not signed with the Miami Marlins. Not yet.
Those in the know still expect Reyes to at least receive an offer from Miami in the near future. Kevin Burkhardt, for one, describes the Marlins as pursuing the shortstop above all else. Buster Olney has some possible details, including a price range and how the Marlins might work with Reyes and the incumbent Hanley Ramirez, also a shortstop by trade:
There is an expectation they will work something out with Reyes for something in the range of five years, $18-20M a year. They are seen as the team that's going to be most aggressive and he certainly fits the style that Ozzie Guillen loves to play. He loves to have a team that runs the bases aggressively, puts pressure on opposing defenses. Reyes would be a centerpiece for that with Hanley Ramirez moving to another position."
There remains, of course, the possibility that the Mets ante up to re-sign their star. All indications, though, are that the Marlins are dead-set on making Reyes their own, and Mike Puma of the Post even reports that the Mets have a backup plan in place, should he depart. So, Reyes-to-the-Marlins still seems highly likely, but it hasn't come true just yet.