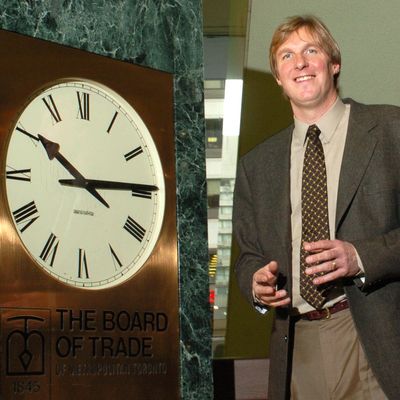 Glen Grunwald is considered to be both a salary-cap expert and a gifted teller of time.
When Donnie Walsh left his office as Knicks president of basketball operations in June, James Dolan made it clear that he would get right to work finding his replacement. Whether it be a new president, a new general manager, or both (the Knicks' distinction between those roles has been ambiguous in recent history), a new front-office leader would be sought, with vice-president Glen Grunwald holding down the managerial duties in the lockout-dampened interim. Almost six months later, they've made no apparent progress toward a new hire. Not even an interview. Maybe it's because James Dolan was so preoccupied with labor negotiations, or maybe the Knicks just like Grunwald. Whatever the case, Alan Hahn has reason to believe that the hunt is postponed, at least for the time being.
In his article last night, Hahn cited sources who suggested that Grunwald will be in charge for at least the rest of the season. With business about to reopen, Grunwald finds himself in an interesting position. Everyone and their cat expects the Knicks to be relatively stingy in the near future so that they might have the chance to contend for the batch of upcoming free agents that includes Chris Paul and Dwight Howard. Will Grunwald be tasked with getting to the Knicks to that goal, or is he merely responsible for laying low and setting the table in the meantime? If Grunwald is truly an interim leader, then when is the right time to replace him? Reconfiguring the front office in the middle of a free-agent hunt would seem inopportune.
And if Walsh is to be succeeded by someone other than Grunwald, will that successor come from within? The Knicks have former GMs like Mark Warkentien and John Gabriel in their front office, and Walsh seemed to be grooming Allan Houston for a prominent managerial role (Houston's since been appointed GM of the Knicks' D-League affiliate), so Dolan isn't short on options. If one of those folks is the answer for the official, non-interim role, then what's the hold up? If that's not the case and Dolan intends to interview outside candidates, then, again, what's the hold up?
The logical conclusion, I suppose, is that the Knicks are confident in Grunwald, despite all that stuff Dolan said about replacing him back in June. There's reason to be confident, too. He's a smart cookie most noted for his salary cap wizardry; he put in a few very successful years as GM of the Raptors; and he's got the aforementioned stable of competent underlings to boot. One only hopes that the confidence is mutual, and that all parties involved have a common sense of their roles and the direction of the team. Managerially speaking, the year to come will be an important one, and any uncertainty that might undermine the betterment of the franchise best be resolved sooner rather than later.