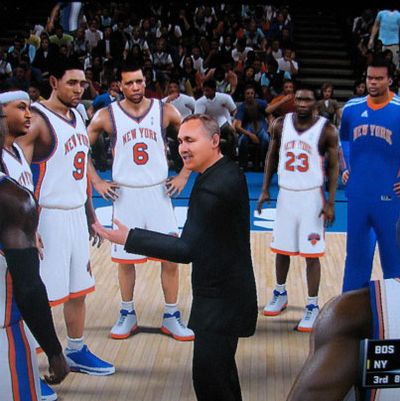 Pretend Jared Jeffries isn't there.
Oh, what a night it would have been at the Garden tonight. TNT's cameras would have been here, and the place would have been rocking. It would have been LeBron James's and the Heat's first game since losing in the NBA Finals, and it would have been Carmelo Anthony's first opening night at MSG. It would have been terrific. It would have been something new and thrilling and … you know, let's just stop talking about it.
Yeah, there will be no basketball at the Garden tonight, or Tuesday when they were supposed to play Oklahoma City, or next Saturday when they were supposed to play Indiana. There will be no pro basketball at the Garden until at least December 2, and let's face it: There's not gonna be any basketball then either.
Tonight, the lockout officially starts to hurt.
We're gonna try to do our part around here. Inspired by True Hoop's simulation of the season game-by-game, we will be using our PlayStation 3 to run through the Knicks' season, game-by-game, via NBA 2K12. Now, there haven't been any transactions in the off-season, other than draft picks Schumpert and Jorts, so we've had to guess at the roster a little bit. Seth helped me out, and here's what we came up with, roster-wise:
Carmelo Anthony
Renaldo Balkman
Chauncey Billups
Anthony Carter
Toney Douglas
Landry Fields
Josh Harrellson
Iman Schumpert
Amar'e Stoudemire
Bill Walker
Shawne Williams
Shelden Williams
For the sake of our own sanity, we took Jared Jeffries off the team. We suspect you are not against us on this.
Anyway, this is the closest thing you're getting to a Knicks season starting like it's supposed to. Sorry. Check back tomorrow to see how the Knicks' pretend season got off to a pretend start. [cries]