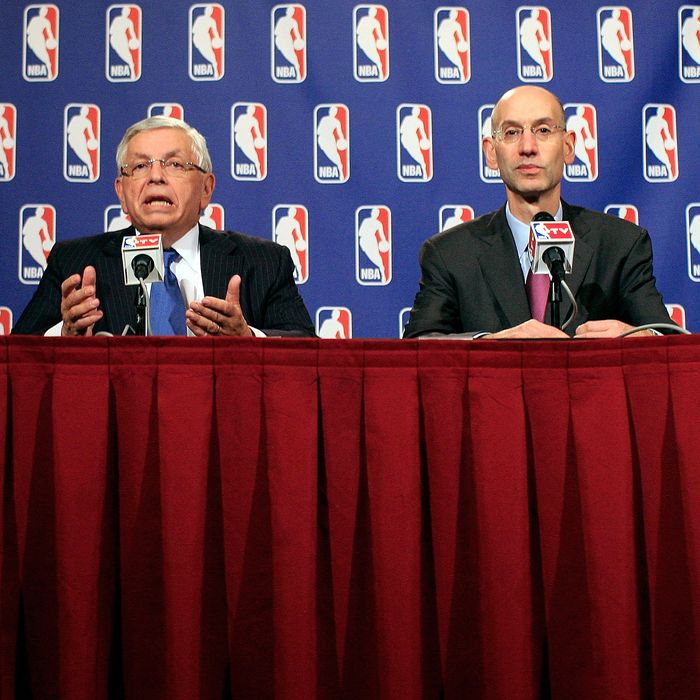 David Stern and Adam Silver.
I hope that by this point we all knew not to get too worked up about yesterday's lockout negotiations. The league and players' union did what they could to conjure hype for the meeting — David Stern's "ultimatum", the 40-odd players looming behind Derek Fisher during Tuesday's press conference — but, once again, the parties emerged with little to offer the media or fans. Stern's "ultimatum" that the failure to resolve things by Wednesday at 5 p.m. would cause the owners to retract any previous concessions proved as ultimate as it was logical. Just like most of us expected, 5 p.m. came and went with the two parties still farting at each other behind closed doors. Those doors didn't open (and allow the farts to escape) until around 1 a.m., at which point separate press conferences were arranged to tell us that there was nothing even resembling a deal yet, but they'd get back to work after everyone had slept.
So, that's somewhat good news. It's been continuously aggravating to sit and wait for these bros to emerge with the inevitable non-news every few nights. However, as Tom Ziller notes, it's better than nothing. Stagnant negotiations are far superior to no negotiations at all, especially since another explosion could lead to decertification of the union, further canceling of games, and me leaving my home to go live in a swamp and eat mud and strangle cranes to pass the time. 
One does wonder what they talk about for twelve hours at a go. The understanding going into yesterday's negotiations was that the players had become amenable to something close to a 50-50 split of basketball-related income, so long as the owners backed off some "system issues" regarding the salary cap, maximum contracts, and other variables supposed to dominate the tug-of-war over parity for owners versus earning potential for players. Half a day later, both sides made it seem like none of those issues had been resolved, which leads me to believe that talks go something like this:
Billy Hunter: Hey, David, how about we leave the mid-level exception as is?
David Stern: No.
Hunter: How about now?
Stern: No.
Hunter: [furrows brow] [for 45 minutes] How about now?
Stern: Let's order lunch.
It's baffling, but, again, it's better than nothing. Meetings resume around noon today and will probably continue into the witching hour once more. And then it's probably back to waiting and hoping.