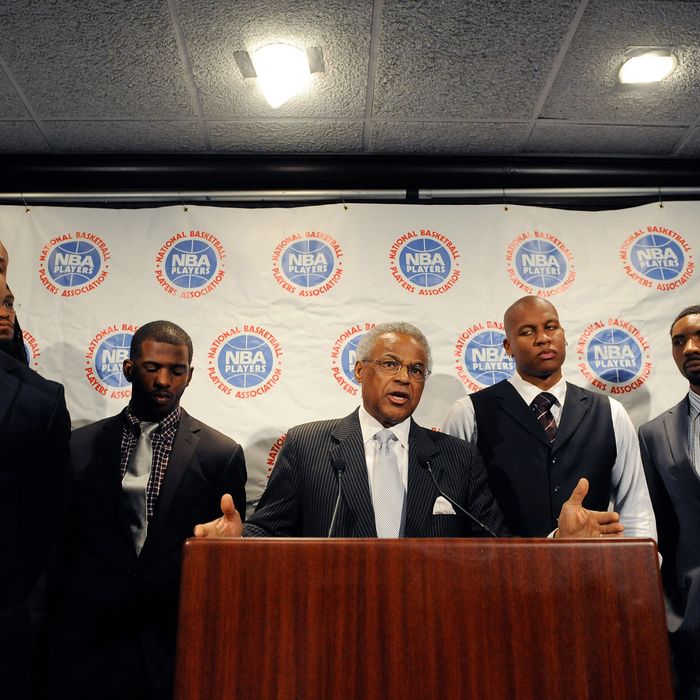 We might see a day when these guys are no longer in charge.
Oh boy, this just gets better and better. Yesterday, we learned that the NBA and NBPA would reconvene in New York this weekend, with negotiations beginning anew on Saturday. Later, we learned of what promises to be a massive wrinkle affecting the negotiations: A faction of players and their agents, should talks go nowhere this weekend, are moving toward decertification of the union. If you, like me, aren't too into labor law, that word might sound vaguely threatening without actually holding any real meaning. If that's the case, keep reading and we'll try to figure this out together. (If you know about this stuff, I encourage you to chime in with your expertise.)
First, the news of how the possibility arose, via Adrian Wojnarowski of Yahoo! Sports:
As many as 50 disgruntled NBA players – including several All-Stars – participated in a clandestine conference call with a top antitrust attorney on Thursday to discuss the process of decertifying the Players Association, league sources told Yahoo! Sports.
I'll go ahead and question the clandestine nature of the thing, since we heard about it only hours after the fact, but the upshot is that a decent chunk of the union — Wojnarowski names Paul Pierce as the leading voice in the calls — is seriously considering decertification. Now, as I understand it, decertification signifies both a rift in the union and a potential implement of leverage for the players therein. Some players seem to feel that union leadership, especially that of executive director Billy Hunter, has allowed too many concessions to the league's owners and fallen short of championing union members' best interests. Hunter himself dismissed the possibility to decertify over the summer, perhaps in part because his role as union head would dissolve as well. 
So that's the rift part. How, then, is this a viable tactic? The eminent Larry Coon lays it out for us in this article, with the main idea being the following:
So far the NBA players have kept the dispute within the realm of labor law by continuing to negotiate as a union. If the players dissolve the union — either by decertifying or through a related process called a disclaimer of interest — they surrender their collective bargaining rights, lift the shield of protection provided by the non-statutory labor exemption, and shift the venue from labor law to antitrust law.
That shift toward antitrust law would suddenly cast the league as an anti-competitive entity, with things like the salary cap and maximum salaries for individuals viewed as price fixing. Coon explains that the players and their agents — let's not forget the agents behind this — would band together to file an antitrust suit against the league, seeking to fight restrictive measures, end the lockout, and possibly receive massive damages. 
If you're like me, none of the above is even remotely interesting except for the fact that it would likely prolong the ordeal, push the date of the next tip-off even further in the future, and roll our eyeballs even further back in their sockets. That is, if the players actually mean it.
See, no formal steps have been taken toward decertification just yet, and it would require way more than 50 players to get that going. For now, folks are viewing this as a tactical threat — a show of leverage to intimidate the owners into buckling. Some owners, one senses, would have no problem at least striking a compromise to avoid decertification and the ensuing bedlam. Dastardly hard-liners on both sides, though, have stepped in to mess shit up before, and there's no reason to expect them to stop. Really, this whole process has been a game of entropic one-upmanship, as both sides seem to believe that real power resides in the ability to ruin everything for everybody involved, including you and me. So far, they're neck and neck in terms of promoting chaos, marginalizing the simple ball-and-hoop game that once unified them, and alienating a massive national fanbase that took years to establish. 
There remains the possibility that something goes right with this weekend's negotiations, perhaps as a result of this haphazardly conceived decertification threat. Nothing about the negotiators' behavior up to this point suggests that we should have much hope, though. This continues to suck.