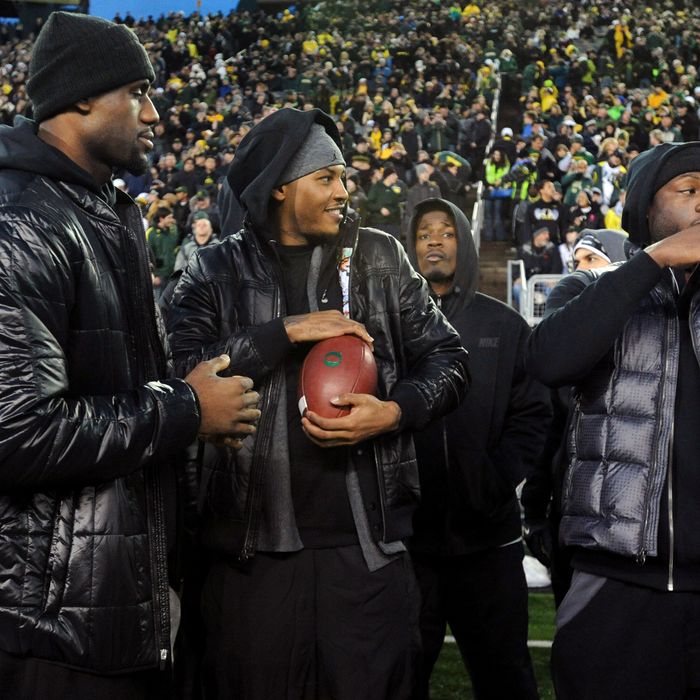 Being an NBA superstar is half talent, half shiny outerwear.
A happy bit of diversion for the lockout-weary: Some superstar NBA talent will be touring the country very soon, including a stop in our area. Carmelo Anthony, Dwyane Wade, LeBron James, and Chris Paul are spearheading a four-city "Homecoming Tour" in a few weeks, with an exhibition game at each of the stops. The barnstorming begins in Akron, Ohio, then hits New Orleans and Chicago before finishing up at the Meadowlands. The "homecoming" aspect of this is a little fuzzy, since Akron probably has mixed feelings about James, Paul plays in New Orleans but isn't from there, and Anthony certainly doesn't live in the Meadowlands. Nobody lives in the Meadowlands except for radioactive turtle-frogs and belligerent three-eyed cranes. 
All that aside, this appears to be a well thought-out endeavor. The tour actually begins with a food drive and court dedication here in New York, and there will be more food drives and clinics for kids in each city along the way. All ticket proceeds will go to charities that the four players support.  Also of note is the broadcast of the games, which will take place on Google Plus. (Social networks continue to prove their worth as the locked-out baller's best friend.)
The final stop in the Meadowlands (presumably at the Izod Center, which is fair game since the Nets have departed) takes place December 10. Tickets for that game go on sale this Wednesday and, now that I think about it, I'm probably going to pick some up. I don't care if it's a mishmash of non-teammates puttering around and tossing each other uncontested alley-oops for 48 minutes. I need my fix. Plus, it's for a good cause!