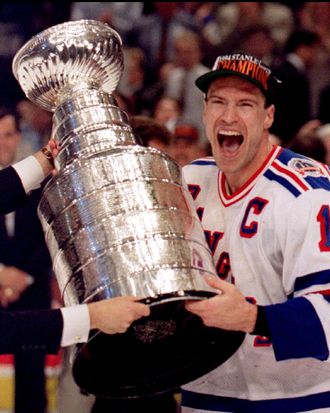 It's unlikely that Nikolas Olsson or Loic Leduc saw this happen live.
We sort of love that the Mets have not one but two players born on October 27, 1986 — the date of the team's last World Series victory. Which got us wondering: With players born between September 16, 1993, and September 15, 1994, eligible for the NHL Draft for the first time in 2012, are there any prospects who were born on June 14, 1994, the date the Rangers won their most recent Stanley Cup? We reached out the NHL, and sure enough, there are.
In the preliminary rankings released by Central Scouting so far, two draft prospects have a date of birth of 6/14/94. One is Nikolas Olsson, a forward from Escondido, California, and a current member of the U.S. Under-18 National Team Development Program. The other is Loic Leduc, a defenseman and native of Chateauguay, Quebec, who currently plays for the Cape Breton Screaming Eagles of the Quebec Major Junior Hockey League. In their preliminary rankings, Central Scouting has Olsson twelfth among USHL skaters, and Leduc seventeenth among QMJHL skaters.
By the way, one of Olsson's teammates has a name you might recognize: Stefan Matteau, son of 1994 hero Stephane Matteau. He wasn't born on June 14, but he's draft-eligible in 2012, nonetheless.