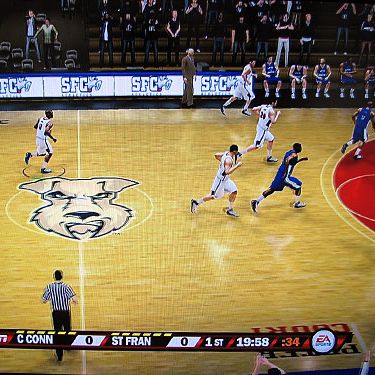 The video game players never get old, never graduate.
Astute readers might remember our big NYC College Hoops Tour from a couple of years ago, in which we visited every NYC college basketball team's home court. Well, a new season is at hand — it's nice having someone play basketball in this city — so we thought we'd see how everyone is shaping up for the 2010-11 season. St. John's has already started its season, so today, just like last year, we'd take a look at the other six programs in town. How are they gonna be this year? Let's find out.
KenPom.com ranks all 345 Division I teams, so we'll do them in the same order, along with a scouting line on each team from the Blue Ribbon guide. Anyway, here goes. 
No. 127, Long Island Blackbirds
Coach: Jim Ferry
Record Last Season: 27-6 (first in NEC)
Best Player: Forward Julian Boyd
Home Arena: Wellness, Recreation & Athletic Center, Brooklyn
Blue Ribbon Forecast: "The end result should be the same as last year — a return trip to the Big Dance."
Predicted Conference Finish: First
No. 206 Wagner Seahawks
Coach: Dan Hurley
Record Last Season: 13-17 (sixth in Northeast)
Best Player: Guard Chris Martin
Home Arena: Spiro Sports Center, Staten Island
Blue Ribbon Forecast: "There are plenty of holes/roles to fill if the Seahawks want to be a factor this season in the NEC."
Predicted Conference Finish: Fourth
No. 218, Columbia Lions
Coach: Kyle Smith
Record Last Season: 15-13 (fifth in Ivy League)
Best Player: Forward Noruwa Agho
Home Arena: Levien Gymnasium, Morningside Heights, Manhattan
Blue Ribbon Forecast: "The Lions don't quite have all the pieces to put the puzzle together."
Predicted Conference Finish: Sixth.
No. 230, Manhattan Jaspers
Coach: Steve Masiello (first year)
Record Last Season: 6-25 (ninth in Metro Atlantic)
Best Player: Guard George Beamon.
Home Arena: Draddy Gymnasium, Bronx
Blue Ribbon Forecast: "The Jaspers might need to take baby steps before reaching the national stage again, especially after winning only six games last season."
Predicted Conference Finish: Eighth
No. 257, Fordham Rams
Coach: Tom Pecora
Record Last Season: 7-21 (fourteenth in Atlantic-10)
Best Player: Guard Branden Frazier
Home Arena: Rose Hill Gym, Bronx
Blue Ribbon Forecast: "Multiple wins in the conference is a realistic expectation."
Predicted Conference Finish: Fourteenth (last)
No. 263, St. Francis (NY) Terriers
Coach: Glenn Braica
Record Last Season: 15-15 (fifth in Northeast)
Best Player: Forward Akeem Johnson
Home Arena: Peter Aquilone Court, Brooklyn
Blue Ribbon Forecast: "If this group clicks, a tournament home game is possible."
Predicted Conference Finish: Tenth