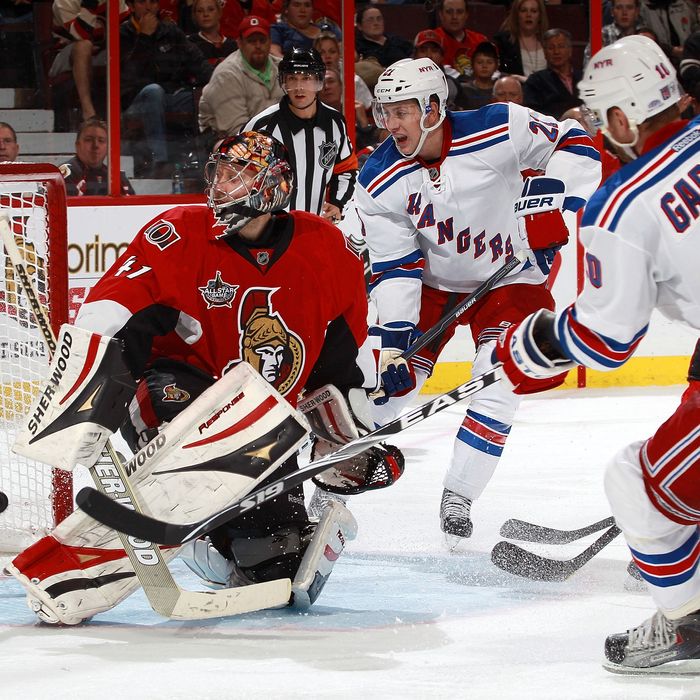 Marian Gaborik scores his second goal of the night last night.
When the Rangers signed Brad Richards, it was said — on this blog and elsewhere — that one of the benefits of adding a top-notch center would be the effect it would have on Marian Gaborik, the winger looking to bounce back from a disappointing season. But knowing what we know about how John Tortorella likes to shuffle his lines, perhaps we shouldn't have assumed the two would skate on the same line, or at least, not on a permanent basis.
And indeed, it took less than a month for Tortorella to split the two up. But over the past couple of games, the players assigned to Gaborik's line have clicked with him in a big way. It's quite the mix-and-match line: Artem Anisimov, who's mostly played center for this team, is skating on the left wing. And Derek Stepan — who at one point was shifted to left wing to play with Richards and Gaborik — is at center. But the result has been a lot of fun to watch: Stepan's ability to see the ice has been on display, Gaborik has been converting when given the opportunity, and skating on the unit has brought out the best in Anisimov.
The trio combined for seven points last night in a 3-2 Rangers win in Ottawa, picking up where they'd left off this weekend. Not to assign too much meaning to any one play, but have a look at the Rangers first goal last night. Anisimov applies pressure and forces a turnover, Stepan picks up the loose puck and fires a pass to Gaborik, and Gaborik buries the shot. And it's not just the individual elements that are impressive, but the speed at which the Rangers made the Senators pay for their mistake: The puck was in the net before the Senators' forwards could get in on the play.
It's here we'll mention that we have no idea how long this will last. Stepan and Gaborik, especially, have shown some chemistry, but we've seen this sort of thing before, over the course of a handful of games. (Remember when Sean Avery and Gaborik clicked at one point last year?) And though this hardly feels like a fluke, Tortorella's fond of changing things up if the offense feels too stale, so when they cool down, one imagines Tortorella will again pull the lever on the slot machine he uses to select his forward combinations. But for now, that slot machine is paying off with an effective top line: Last night's win was the Rangers' fifth in a row.