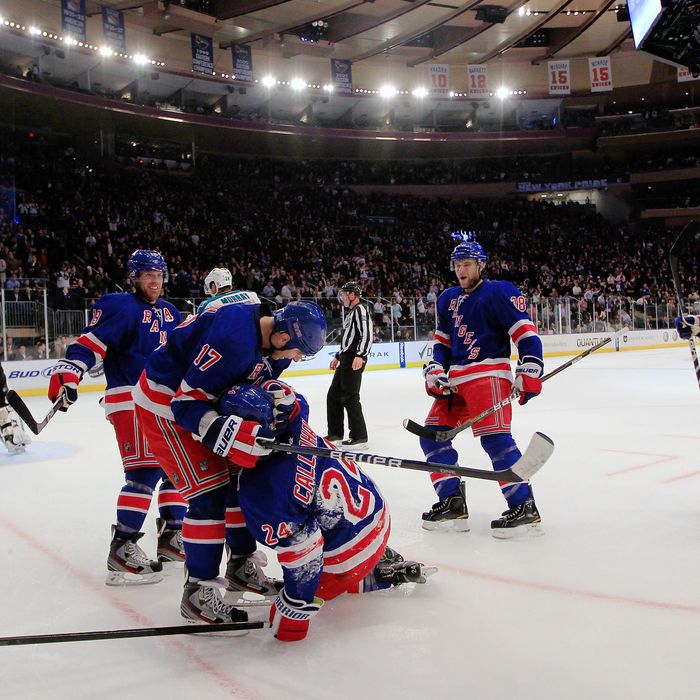 The Rangers celebrate a Ryan Callahan goal.
We're not sure what constitutes, or what should constitute, a .500 team in the NHL these days. For example, in nine games through Saturday, the Rangers had a 3-3-3 record. So on the one hand, they'd won just three out of nine games. But on the other hand, they'd earned exactly half of the eighteen points available in those games. Either way, we're confident in saying that the Rangers, over those first nine games, played like a .500 club. For every encouraging sign (Marian Gaborik, the top defensive pair), there was a concern (too many penalties in the early going, Saturday's blown lead against Ottawa). They'd play a good period, then a bad one, and though we figured that they would, in due time, get to playing their intended style of hockey on a consistent basis, it's still nice to see them actually do it. And so last night, in a 5-2 win over San Jose, we saw the Rangers play pretty much a full 60 minutes, and unlike Saturday, protect that lead once they had it.
Ryan Callahan played his best game of the year, the Rangers as a team did a nice job forechecking, and the improving power play experimented with crazy concepts like "movement" and "tape-to-tape" passes. For the first time all year, the Rangers outshot their opponent — and they did it against a talented San Jose team. Martin Biron made 24 saves for his second win of the year. All in all, it was a very encouraging night.
All of which made Joe Thornton's post-game comments even more bizarre. The Sharks had won the first five games on the six-game road trip that ended last night, and after the game, Thornton said that the Rangers were "probably the softest team we played against on this road trip, and we should have these two points." It's fine that he thinks the Sharks should beat the Rangers, though as was pointed out by the MSG broadcast crew, the timing was strange. (After all, the Rangers had just outplayed the Sharks to end San Jose's winning streak.) But it's an especially curious choice of words. This Rangers team may have flaws, but as a team, we'd hardly consider them soft. And though there are nights when their forecheck isn't as aggressive or effective as they'd like it to be, last night wasn't one of them.
After the game, when told about Thornton's comments, John Tortorella responded only by saying "Joe said that? Wonderful." He didn't really need to say much else, though. Last night, the Rangers' play pretty much spoke for itself.