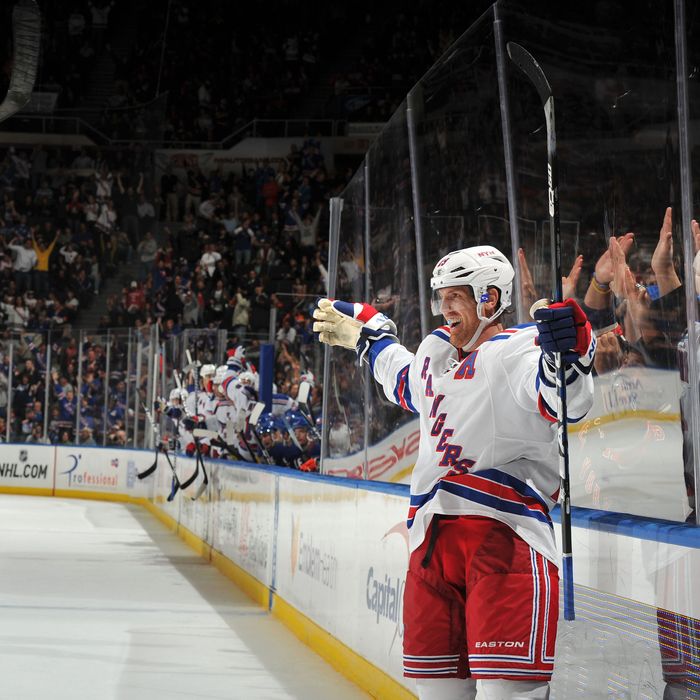 Brad Richards celebrates his go-ahead goal last night.
Before last night's game began, it was pointed out on the Rangers radio broadcast that the last time the Rangers won seven straight games, it was during a season when they also missed the playoffs. Indeed, that winning streak came early in the 2009–10 season — the one where the Rangers missed out on a postseason spot when they lost a shootout to the Flyers on the final day of the season. The point of that tidbit, we guess, was to remind listeners that it's only November, and that there's a lot of hockey left in a season that's not even a quarter complete. And that's all true. But knowing that they'll eventually cool off doesn't make this streak any less enjoyable.
Last night's 4-2 win over the Islanders extended the Rangers' current winning streak to seven, but make no mistake: This is a better Rangers team than that one from two years ago. Among other things, this is a more balanced squad —  one that doesn't necessarily need to rely on the same one or two players to contribute every night. (You'll recall that the 2009–10 team relied too much on Marian Gaborik for offense.)
That said, some of the more high-profile names stood out last night: Brad Richards — who has eight points in his last eight games — scored with 4:55 remaining to break a 2-2 tie in a fun game at Nassau Coliseum, though with all due respect to Richards and Brandon Dubinsky, who had the assist on the goal, Josh Bailey's turnover had a lot to do with that tally. (As every hockey coach we had as a kid would say, "Not up the middle!") Henrik Lundqvist was excellent, and his 31 saves included this beauty from the second period. And Ryan Callahan — who had a pretty assist and an empty-net goal on the night — played a typically strong game. (We'll also note here than Sean Avery, given the chance to play on something other than the fourth line, has two goals in two games.)
Or to put it another way, Marian Gaborik had some quality chances but didn't score — but the lack of goals from his line didn't doom the team last night. Nor did their failure to score on a lengthy 5-on-3 in the second period. John Tortorella is fond of saying after victories that the Rangers found a way to win, meaning they earned two points despite not playing a perfect hockey game. It sounds like coach-speak, but there's some logic there: Realistically, you're not going to play a perfect game every night. And so getting those two points after allowing the Islanders to tie the game at one, and then at two, is worth praising. Those points are adding up: For what it's worth, on November 16, only one team in the conference (Pittsburgh) has more points than the Rangers.
The Rangers next play on Saturday in Montreal. They haven't won eight straight, by the way, since 1974-75.