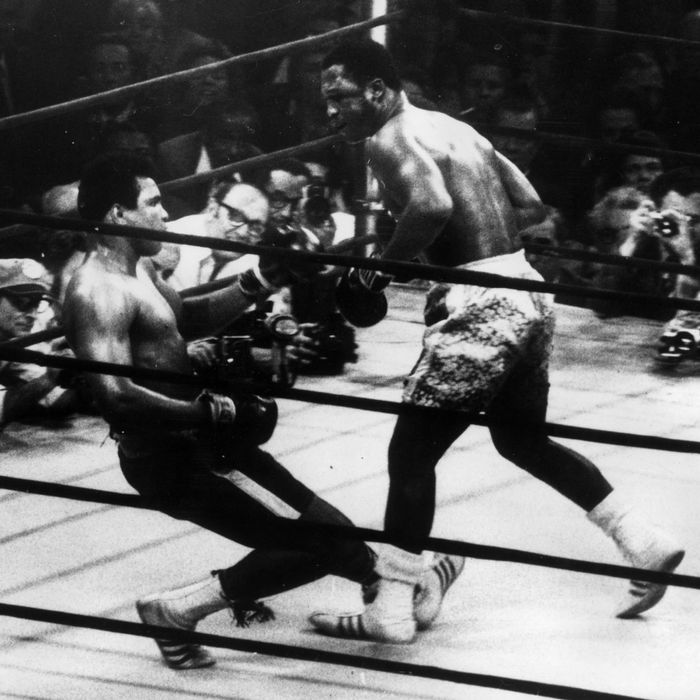 Frazier's left hook drops Ali in 1971.
Joe Frazier, diagnosed with liver cancer just months ago, passed away in hospice care late last night. The boxing great, who was 67, leaves behind him a brilliant, bruising heavyweight career, much of which was made right here in New York. Frazier's first major professional challenge (after cruising through his first year) took place in 1966 at Madison Square Garden, with the ruthless Argentinean Oscar Bonavena taking him ten rounds (video of which can be seen here). All told, Frazier went 10-1 at MSG, including a knockout of George Chuvalo in a 1967 and his legendary knockout of Jimmy Ellis in 1970, which made him Heavyweight Champion in Muhammad Ali's absence from the sport. Of course, Ali would eventually return to the ring, and the two would engage in one of the more vicious athletic rivalries in history. Below, check out both Ali–Frazier bouts at Madison Square Garden. 
The first, "The Fight of the Century" in 1971, holds up as one of the greatest heavyweight matches of all time, living up to its unparalleled hype (Knicks fans have certainly heard Walt Frazier, no stranger to MSG glory, reminisce  about this fight as one of the greatest things to ever happen at the Garden, and perhaps anywhere). Frazier would win by decision, topping Ali after fifteen rounds with his punishing left hook. It was Ali's first professional defeat, and it solidified Frazier's elite status. Here are the first three rounds (the whole fight is on YouTube):
Their rematch, in 1974, was the first of two losses that Ali took to Frazier, the second being the well-known "Thrilla in Manila" the following year. Ali–Frazier II begins here:
Farewell to one of boxing's greatest, and a fighter whose legend will always be intertwined with that of the "World's Most Famous Arena".