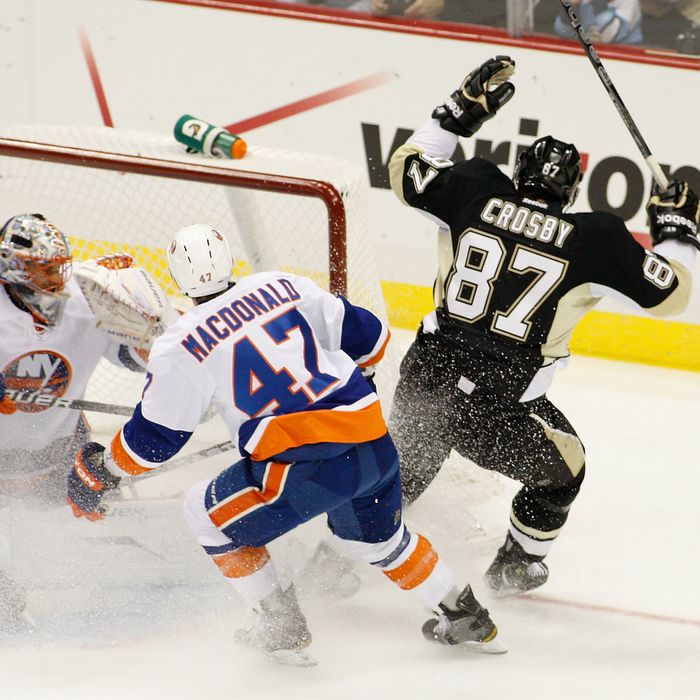 Sidney Crosby scores in his return last night.
Imagine for a moment that you are goaltender Anders Nilsson. Not only did you begin your season in the AHL, but you did so in an Islanders organization that took the unusual step of keeping three goalies on its NHL roster. You were called up by the Islanders only because two of those three goalies got hurt, and as of yesterday morning, you had all of two periods of NHL experience under your belt — both of which came when Rick DiPietro was pulled after one period in a blowout loss to Boston on Saturday. Then imagine you're tapped to start a game inside a madhouse of an arena, with the entire hockey world watching as Sidney Crosby made his much-anticipated return to the Penguins.
And so, with all due respect to Crosby —  who looked terrific in 15:54 of ice time after missing 61 games — Nilsson was basically thrown to the wolves last night. Pens fans, meanwhile, got exactly what they came to see: Their captain scored a goal fewer than six minutes into the game, had assists on Pittsburgh's next two tallies, then scored again in the third period in a 5-0 rout. Here's Crosby's first goal, which — as much as any single play can, at least — erased any doubts about Crosby's game after such a long absence:
If you're curious, via TSN, Crosby moved up 243 spots on the NHL scoring leaderboard in his first game back. Meanwhile, with the win, the Penguins now have 27 points on the season, most in the Eastern Conference. Granted, Crosby won't get to play against such an inexperienced goalie every night, nor will every game be against a team struggling as much as the Islanders are right now. But whether you love Crosby, hate him, or love to hate him, you have to admit that the rest of the East was put on notice last night.