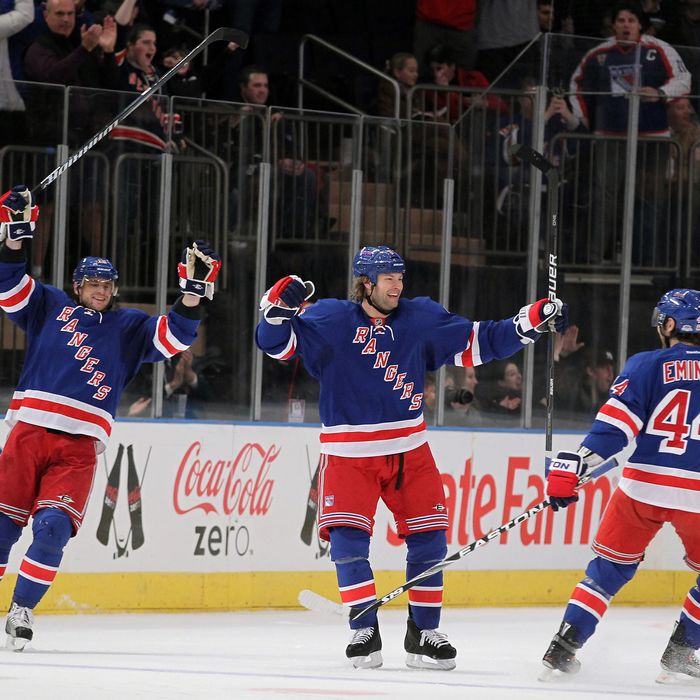 The Rangers celebrate a goal last night.
We generally support the idea of using the shoot-out in the NHL, if only because it means no more tie games. The concept is reasonable enough: One team's three best shooters versus the other team's. The thing is, the three best shooters aren't necessarily its best players, or even its best scorers. Obviously, the format doesn't require its participants to be well-rounded in the same way that an actual hockey game does. But even most talented offensive players don't necessarily excel in the one-on-one situation, and that makes the shoot-out a little bit harder to get behind. Which brings us to last night.
Marian Gaborik is an undoubtedly dynamic player whose shoot-out numbers are downright ugly: Prior to last night, he'd scored just twice in nineteen career shoot-out attempts. And so there's something satisfying about seeing Gaborik — who tends not to be among the Rangers' top three shooters — not only get the opportunity to shoot last night, but score what turned out to be the deciding goal in the 2-1 win over Anaheim.
Not to take anything away from Erik Christensen, who also scored in last night's shoot-out and routinely excels in them, if not during the first 65 minutes of games. And not that we'd suggest that the Rangers return the many points they've earned in the shoot-out over the past couple of years thanks to Christensen, or Wojtek Wolski, or any other forward whose value rises when the overtime buzzer sounds. But deciding the game with a skills competition feels a little more legitimate when teams live or die with their best players. (Or, perhaps more accurately, when a team's best offensive player doesn't watch the whole thing from the bench.) Not that a coach should necessarily care about this — he should use the guys most likely to score, no matter who they are — but as an observer, it's easier to justify the thing when your best forward has the game on his stick. (Worth noting here: Brad Richards, who didn't score last night, has solid shoot-out numbers in his career.)
That last night's game even got to a shoot-out was something of a surprise, which is to say it's amazing that the Rangers didn't score during the frantic overtime period. (And the game may not have even gotten that far if not for some brilliant saves by Jonas Hiller.) Who knows what last night's goal means for Gaborik's effectiveness in the shoot-out going forward. But the way he's playing right now, one would think they'd want the puck on his stick as often as possible.