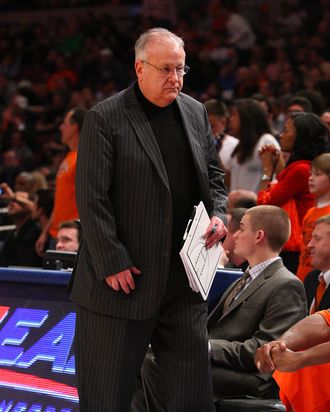 ESPN's Outside the Lines came out with a report last night in which two former Syracuse basketball ball-boys accused long-time assistant coach Bernie Fine of molesting them during the eighties and nineties. In the video, which can be seen here, ESPN's Mark Schwarz explains that the first alleged victim, Bobby Davis, approached them with the allegations in 2003. At the time, the network chose not to act on the story because they failed to corroborate it. Now, a second alleged victim, Davis's stepbrother Mike Lang, has come forward, and the two described the details of their allegations in interviews that aired Thursday night.
In a letter of response to students, faculty, and staff, university chancellor Nancy Cantor announced that Fine has been placed on administrative leave and that local police have opened an investigation with which the university will be fully cooperative. The letter explains that the university first became aware of allegations against Fine in 2005. At the time, the police deemed the case outside their statute of limitations, so Syracuse held its own investigation over several months and was unable to corroborate the story. In light of what happened at Penn State, Cantor's letter takes pains to assure that the university and its athletic department have played and will continue to play a diligent and authoritative, never meddlesome or neglectful, role in the case. 
Meanwhile, Syracuse head coach Jim Boeheim was both swift and vehement in his defense of Fine, who has been with the program for 35 years. Boeheim, who Davis claims frequently saw him in the company of Fine, though not under attack, spoke to ESPN last night and accused Davis of "lying", adding the following:
"Why wouldn't he come to the police (first this time)? Why would he go to ESPN? What are people looking for here? I believe they are looking for money. I believe they saw what happened at Penn State and they are using ESPN to get money. That is what I believe. You want to put that on the air? Put that on the air."
One potential positive consequence of the Penn State scandal is that victims of sexual abuse will hopefully be emboldened to speak out against their assailants so that they may be punished. On the other hand, there is the possibility, to which Boeheim is pointing, that someone might exploit the public's heightened sensitivity to the issue in order to falsely accuse innocent individuals. Whether this case falls into either of those two categories is, of course, up to the investigators to determine. In any event, this story and its coverage will be steeped in the aftermath of what took place at State College. Those invested in the athletic program, both at an administrative level (as mentioned previously) and as fans (as seen in this excellent post at Troy Nunes Is An Absolute Magician), have seen how a scandal can grow and warp, and they are making efforts to ensure an appropriate response. This is in the hands of the police now, and one hopes that justice will be done in due time.