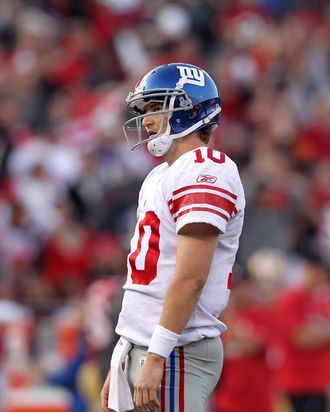 Eli Manning's attempt to once again save the day with a late fourth-quarter drive fell short this time — though, boy, by the time they converted on fourth down for the second time on that drive, it really did look like he was going to play the part of the hero again, even though, this time, a touchdown and extra point would have only tied the score, rather than giving the Giants the lead. But a week after finding Jake Ballard in the end zone to cap a thrilling win in New England, Eli's day ended yesterday with his final pass batted down, returning the ball to the Niners on downs, and sealing the 27-20 San Francisco victory.
As far as these things go, it was hardly the most discouraging loss. (Surely Jets fans are feeling worse this morning.) San Francisco's a very good team, and though there's no room for moral victories in the NFL, the Giants hung with them just like they hung with New England last week. We're still learning about this Giants team, but it's fair to say they're not dominant: Whether they win or lose these tough games may very well come down to just a couple of plays. Last week, the Giants pulled it out. This week, they didn't. Realistically, the goal for this brutal mid-season stretch wasn't to run the table. The Giants merely have to survive it. And so far, they have. But they're not through it yet.
Yesterday might have been a game with playoff-seeding implications, but right now, the Giants should be more concerned with their own division. The Cowboys dismantled Buffalo yesterday, and moved to within one game of the Giants in the NFC East. The Giants play Dallas twice still, and they have a couple more common games remaining, but the Cowboys otherwise have the easier schedule: Their non-division games are against Miami, Arizona, and Tampa Bay. The Giants, meanwhile, have to play Green Bay, New Orleans, and the Jets. (Needless to say, those head-to-head games against the Cowboys are huge.) Next up for the Giants, though: A home game against the Eagles, on Sunday night.