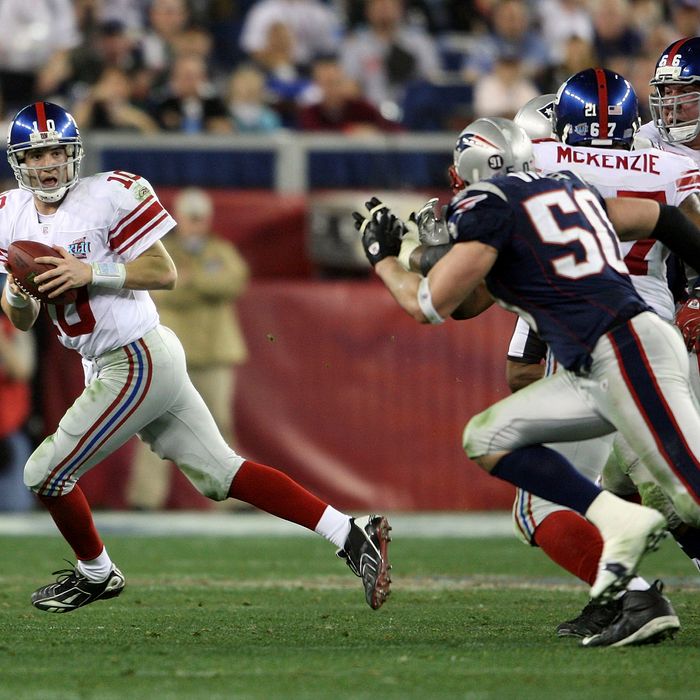 Eli Manning, from the last meaningful game between the Giants and Patriots. Perhaps you remember it?
Here's an honest, simple question: Are the Giants a good football team? On the one hand, they have a 5-2 record and sit atop the NFC East. On the other hand, their first seven opponents are currently a combined nineteen games under .500, and they needed late scores to earn wins against Miami (currently 0-7) and Arizona (currently 1-6). We're reminded a bit of the 2009 season, when they began 5-0, but did so against similarly weak opponents, and finished the year just 8-8.
Which isn't to say that these Giants will necessarily suffer the same fate. We can point to some encouraging signs through seven games (Jake Ballard's pass-catching, for instance), as well as some discouraging ones (the running game in general), but the truth is, we probably still don't know how good this Giants team is. They did beat the one team they played that currently has a record above .500 — that would be Buffalo — and winning in Philadelphia is noteworthy, no matter how rough a start the Eagles got off to. But really, over the next several weeks, we'll learn a lot about how the Giants stack up against some of the better teams in the league.
The problem, of course, is that they're dealing with yet another wave of injuries: Ahmad Bradshaw, Hakeem Nicks, and David Baas are all listed as doubtful for Sunday's game against New England — the first meaningful contest between these teams since Super Bowl XLII —  and Tom Coughlin says that whether Jason Pierre-Paul plays will be game-time decision. Needless to say, those are some key players.
There's this, too: With the Giants looking for a big road win and the Jets hoping for a Patriots loss, all of the city's football fans have good reason to root for Eli Manning and company in this one. The brutal part of the Giants schedule begins on Sunday regardless of who can play and who can't, but at least they'll have an entire city cheering them on, either way.