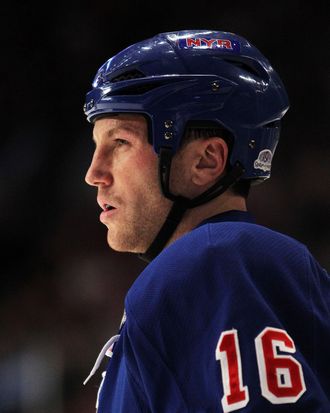 Rangers fans let it be known on opening night that they wanted Sean Avery back on the club, and with Mike Rupp out with an injury, the team this week took steps to make that happen. They placed Avery on reentry waivers on Monday, and when he wasn't claimed, they recalled him from the AHL the following day. Not that he's gotten into a game yet: He was a scratch for last night's win over Anaheim. The wait is almost over, though: John Tortorella says he'll be in the lineup tomorrow night. But what happened this week that didn't involve fans getting their wish?
The Giants escaped with a win against the Dolphins. Ahmad Bradshaw, however, injured his foot during the game.
Tony La Russa announced his retirement.
The Mets unveiled Citi Field's new dimensions.
The Yankees kept CC Sabathia from opting out of his contract.
As the NBA lockout dragged on, teams prepared to start issuing refunds. The virtual Knicks, however, won their fake season opener.
John Tortorella reminded Joe Thornton that while he's a great player, he "hasn't won a goddamn thing."
We looked at the basketball programs at UCF, Houston, and SMU — all of which reportedly have been invited to join the Big East in all sports.
And we spoke to R.A. Dickey about his plans to climb Mount Kilimanjaro.
That's it for us. Have a great weekend…