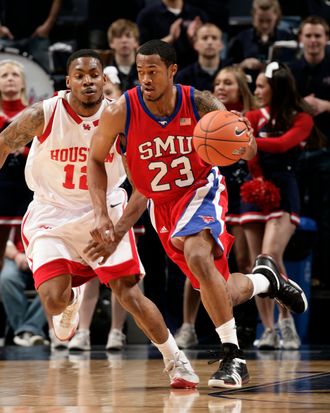 Houston-SMU, in a matchup of schools that could be joining the Big East.
The Post reports that the Big East has invited six schools to join the conference: Air Force, Navy, and Boise State in football only; and Central Florida, Houston, and SMU in all sports. All of this realignment business is driven by football, of course, but it'll have a serious impact on Big East basketball. Syracuse, which is leaving for the ACC, is a national power that's won an NCAA title within the last decade. Pitt, also bolting for the ACC, has reached the NCAA Tournament every year since 2002, and has averaged 27.1 wins per year over that span. And West Virginia, which won the conference title two seasons ago, has advanced to at least the Sweet Sixteen four times since 2005, and reached the Final Four in 2010. But what is Big East basketball gaining?
Well, Houston has some solid basketball history: They've been to the Final Four five times, and back in the eighties, they got there in three consecutive seasons. However, they've only reached one Tournament since 1992. (They lost in the first round in 2010.) Currently a member of Conference USA, they won at least eighteen games in six straight seasons under Tom Penders through 2009-10, but last season, in James Dickey's first year as head coach, they finished just 12-18.
SMU, meanwhile, hasn't been to the NCAA Tournament since 1993. Last season, they earned a postseason invitation, advancing to the semifinals of the CollegeInsider.com Tournament. But prior to that, they hadn't had a winning season since 2003.
And then there's UCF, which has only been competing on the Division 1 level since 1984. Also a current member of Conference USA, they've had moderate success in recent years, winning an average of 19.2 games since 2001-02. And last season, they reached the semifinals of the CBI Tournament. They've never gotten past the the first round of the NCAA Tournament, but have played in the tournament four times, including back to back appearances in 2004 and 2005. In both of those tournaments, by the way, they lost in the first round to a Big East opponent.
Rick Pitino has been pressing for the conference add Memphis and Temple, because of their basketball programs. Considering what Big East basketball is losing — and what it would be gaining, if all these schools accept their invitations — it's not hard to see why.