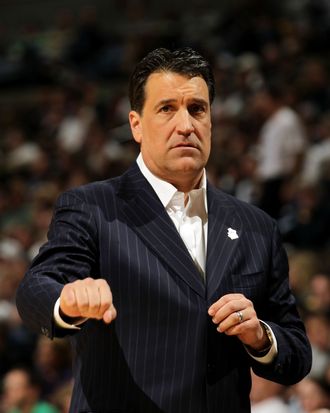 Head coach Steve Lavin, who is recuperating from prostate cancer surgery, will watch tonight's game from home.
The youngest team in St. John's history will open the 2011-12 season tonight at Carnesecca Arena. The opponent? William & Mary, a team predicted to finish in the middle of the Colonial Athletic Association but who, 29 games or so down the road, could find themselves atop the CAA rankings. Though the Tribe is dinged up to start the season – Quinn McDowell will play tonight, despite suffering a knee injury that severely limited him during preseason excursions – W&M returns nearly every player from a team that was extremely efficient from long-range. So what should you watch for as we get our first look at this year's Johnnies?
The impact of St. John's match-up zone: The brainchild of associate head coach Mike Dunlap, St. John's unveiled a match-up zone at the start of the 2010-11 season. The zone worked for primarily two reasons – a combination of the Red Storm's overall athleticism and their experience. However, with six newcomers, Lavin & Co. cannot depend on a lineup that had already learned what it takes to play defense at the Division I level. And though the zone was key during defeats of Georgetown and West Virginia, it wasn't impenetrable; opponents still scored roughly a point per possession, a rate that puts the Red Storm just above average among Division I schools.  Even last year, St. John's was not great facing teams that liked to shoot the 3-ball. According to Ken Pomeroy, opponents connected on 40 percent of their attempts, one of the worst defensive percentages in the country. The key could be Sir'Dominic Pointer; positioned at the top of the zone, Pointer should be a disruptive force and, thanks to his length and skill playing the passing lanes, could post one of the best steal rates in the Big East.
Can Nurideen run the point? Even with the small sample size, it appears that Lavin will employ JC transfer Nurideen Lindsey in the same manner as Dwight Hardy. What this means is Lindsey will probably attempt more shots than any of his teammates. Though this may seem a detriment to success, it worked last season because Hardy was an offensive force — and by requiring defenses to continually worry about the guard, there were more scoring opportunities for the rest of the squad. Lindsey's offensive skill set is similar to Hardy's, and it's clear the sophomore can create his own offense. Lindsey's assist rate will not be pretty (neither was Hardy's), but since the majority of those under scholarship can easily take their defenders off the dribble, an underwhelming assist rate does not necessarily mean the Johnnies' offense is too stagnant. However, if Lindsey does underperform, Lavin will turn to Malik Stith and Phil Greene.
D'Angelo Harrison's groove: The 6-foot-3 guard was recruited to be the Johnnies' long-range threat, but it's clear from their two exhibition match-ups that the freshman guard is still looking for his stroke. In those games, Harrison shot just 3 for 14 from beyond the arc and, following the close win over St. Mary's, said he would spend this past week working on his shot. The 3-ball does not play a large role in Lavin's offensive strategy, but, if Harrison can find a rhythm, the St. John's offense becomes much more efficient. If he is hitting from outside, defenses will not be able to pack the interior, which opens up numerous cutting lanes: According to Synergy Sports Technology, St. John's depended on cuts for 14 percent of their offensive possessions.
God'sgift Achiuwa is more than an awesome name: The last time St. John's had a player with Achiuwa's physical skills, Norm Roberts was only in his third season as head coach.  It's fair to say Lamont Hamilton was the last true, back-to-the-basket big man to play for the Red Storm, and in exhibition play, the 6-foot-8 Achiuwa was the team's most efficient offensive player, connecting on nearly 80 percent of his two-point field goal attempts. But Achiuwa's real impact will be on the glass. Last season, St. John's posted an average offensive rebounding percentage (33.1) and a subpar defensive rebounding rate (33.2; all stats courtesy of Ken Pomeroy). Since depth will clearly be one of the Red Storm's main concerns – only six players will see significant playing time, and it's still unclear whether Norvel Pelle or Amir Garrett will be eligible this season – the Johnnies will need to perfect their box-out skills. Though it's difficult to rebound out of zone defense, the combination of Achiuwa and freshman Maurice Harkless will make St. John's stronger on the glass, and since both players are not afraid to absorb contact, the team could experience a jump in their two-point field goal percentage, which hovered below 50 percent last season.
The state of St. John's tempo: With the exception of Achiuwa, every Johnnie is capable of jump-starting the fast break. But, thanks to the aforementioned lack of depth, it remains to be seen how often St. John's will run this season.  During the two exhibition tilts, the Johnnies did push the pace, averaging a VMI-like 77 possessions per game. But that type of tempo will not persist, simply because St. John's doesn't have the bodies for it. Last season, the Red Storm relied heavily on transition buckets, and though Lavin does have Uber-athletic bodies at his disposal, the Johnnies may try to temper the pace this season and operate more in the half-court. It will be interesting to see what type of substitution pattern the coaching staff adopts; one would assume a hockey style of subbing, where players play for increments in order to preserve their legs for the grind of Big East play.