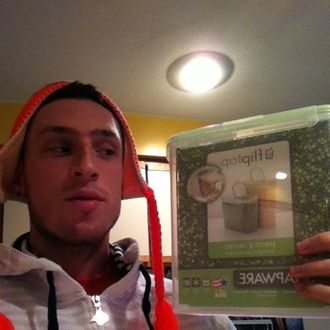 Less basketball means more time to keep one's cereal fresh.
We now know what would have happened if the Knicks' game against the Heat wasn't canceled last night. You and I would have been electrified by a blowout win over the Heat, as well as nearly a full quarter of Renaldo Balkman. It would have been great. In real life, I used that time to eat an obscene amount of sushi, then watch the re-air of the Chris Herren documentary on ESPN2 while you probably braised some sneakers or filled your neighbor's mailbox with turtle eggs or something. How about the Knicks themselves? What did they do with their free time?
The popular social networking website Twitter should help us with this. Here's what some Knicks were doing during what would have been game-time last night.
Andy Rautins, the birthday boy, was enjoying a very practical gift:
" .. and now I have the Freshest cereal"
The above links to this photo. It appears Andy is the proud owner of both a Snapware Fliptop Cereal Keeper and a comprehensive knowledge of Forgetting Sarah Marshall lines. Really, though, I hope he got some cooler presents than that.
Knicks rookie Iman Shumpert had a lot on his mind and did what he could to deal with it:
Time to workout … gon feel good to block out some of the bull I gotta deal wit … #lehgo
Using work to escape life's troubles can be a slippery slope, but the Knicks desperately need point-guard help, so I'm all for it.
Bill Walker did a different kind of "work".
just put in work on battlefield 3
I've never played Battlefield 3, but I bet Bill Walker is extremely good at it. I'm not even going to make a joke about defense.
Landry Fields, rascal that he is, used his time to offer advice to the clumsy:
You spilled on the couch! Quick, just flip the cushion before the owner of the house walks back in.. #youvedoneit
That's decent advice, but it depends on the age of the couch. On a new couch, this tactic probably works. On an old couch, you run the risk of flipping the cushion only to reveal an older and possibly more conspicuous stain on the underside. You get one flip per cushion, and you do NOT want to be the ill-fated second flipper. All of a sudden, you hear footsteps coming from the kitchen and you're madly trying to flip and re-flip the cushion to determine which side is less stained and now you can't fit the thing back into its slot and your best bet at this point is to just slide the couch, cushions and all, right out the window …  and now you're in really deep shit when you should have just fetched a wet washcloth in the first place. I don't want to doubt the great Landry Fields, but just be careful out there. 
So, what were the Knicks doing while not playing basketball? They were keeping their cereal fresh, working out, gaming, and offering somewhat shady advice about couches. I guess those are decent alternatives.