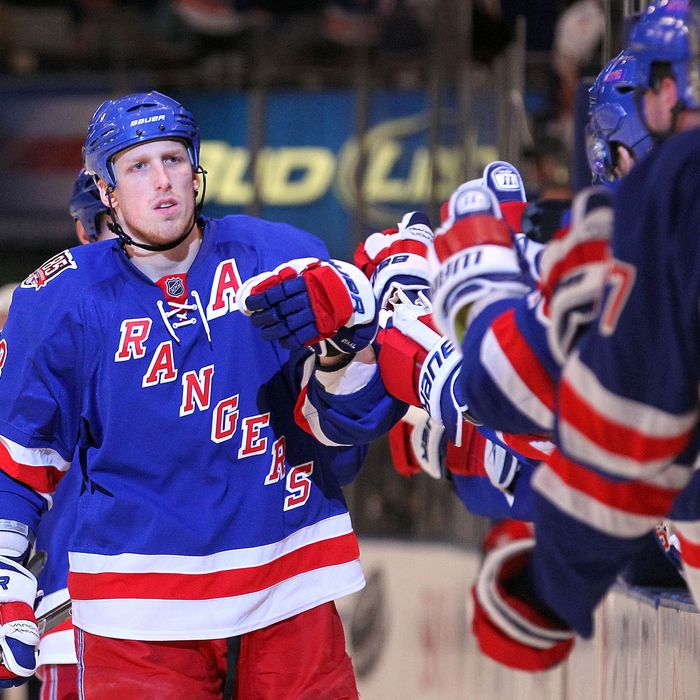 Tonight, the Hurricanes are in town to play the Rangers, which means Carolina captain Eric Staal will face the Blueshirts for the first time since delivering the hit that injured his brother Marc last February. Marc has yet to play for the Rangers this season, and hasn't even practiced with the team since training camp, as he deals with the effects of a concussion he suffered from that hit from his brother. The Rangers, meanwhile, have remained mum on the status of their top defenseman, and so information about his health has been scarce.
It wasn't until training camp, of course, that Staal's head injury was even publicly disclosed. In a piece about how disclosures about concussions are lagging in the NHL, the Times today provides a recap of what was said about Staal and when:
The Rangers adhered to N.H.L. policy last season when they did not disclose that Staal had developed concussion symptoms after the hit. Staal also injured a knee on a separate hit in that game, and that was the reason given when he missed the next three games. He missed two more games in mid-March, an absence that the Rangers revealed in September to have been caused by postconcussion symptoms. During that time, Staal also did not say he had concussion symptoms.

Under the N.H.L.'s injury-disclosure policy, clubs may not lie about players' injuries, but they are not obligated to volunteer specifics. "You guys didn't ask, so I didn't give you the information," Tortorella said in September when asked why the Rangers did not disclose Staal's concussion.
Which brings us, more or less, to today. We know the general nature of the injury, but we don't know too much about his progress. Earlier this week, Eric Staal told NHL.com that Marc is living normally but still experiences headaches when he exerts himself physically. (Obviously, that's not very good news.) But it's possible that Staal and the Rangers, at least, might know more soon: Larry Brooks writes today that he's learned that Marc will visit a concussion specialist in Boston next week. That doctor's visit will reportedly come at the end of a one-month "shutdown" period in which Staal was ordered to cease physical activity. (Assuming this is true, one wonders what's been causing the headaches his brother described, or, looking at it a different way, how recently it's been happening.) And so for now, we continue to wait —  and wonder if the Rangers will seek retribution tonight.