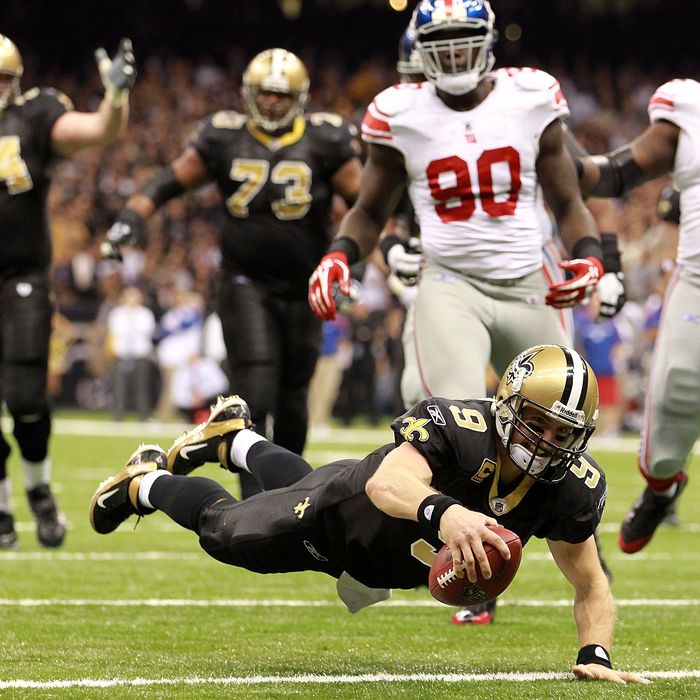 Drew Brees dives into the end zone last night.
Last night, a week and a day after the Giants turned in an awful performance against Philadelphia, they again made us wonder how the hell they beat New England on the road. And unlike last week's game, in which the Giants remained within striking distance until late in the fourth quarter, this one was never really in doubt: Drew Brees carved up the Giants' defense, the running game is still nowhere near where it needs to be (the Saints must have gotten a kick out of Brandon Jacobs yapping at them after his touchdown), and by the time this thing ended, New Orleans had a convincing 49-24 victory.
All losses may count the same in the standings, but some are easier to get over than others. The Giants, for instance, hung with a very good San Francisco team on the road a couple weeks back, and while that win would have been huge in the standings, we thought perhaps we'd at least learned something about how the Giants might stack up against the league's elite teams. Since then, of course, things have gotten ugly, and their last two losses are among the most discouraging in recent memory.
Maybe we should have expected this rough stretch. The Giants are no strangers to second-half struggles, and this year, their schedule took a turn for the difficult after Week Eight. Which isn't to say they haven't beaten good teams (like the Pats) and lost to weak ones (like Seattle), but the Giants team that mostly took care of business earlier in the season has had a rough go of it against stiffer competition of late. Needless to say, that's no way to earn a playoff spot, particularly when a loss to undefeated Green Bay next weekend would mean visiting Cowboys Stadium in Week Fourteen while on a four-game losing streak. We've known for a while that this was a flawed team that's dealing with all sorts of injuries, but whatever optimism existed after that New England game is now gone.
Mathematically, the Giants are still kicking: They're only a game behind Dallas, and they still play the Cowboys twice. Dallas, though, has the easier schedule otherwise: They play Arizona, Tampa Bay, and Philadelphia, while the Giants have Green Bay, Washington, and the Jets. Those games against the Cowboys, obviously, are huge, and we'd like to think that two of the Giants' other three remaining games are perfectly winnable. Problem is, right now, the Redskins and Jets can look at the Giants game on their schedules and think the very same thing.