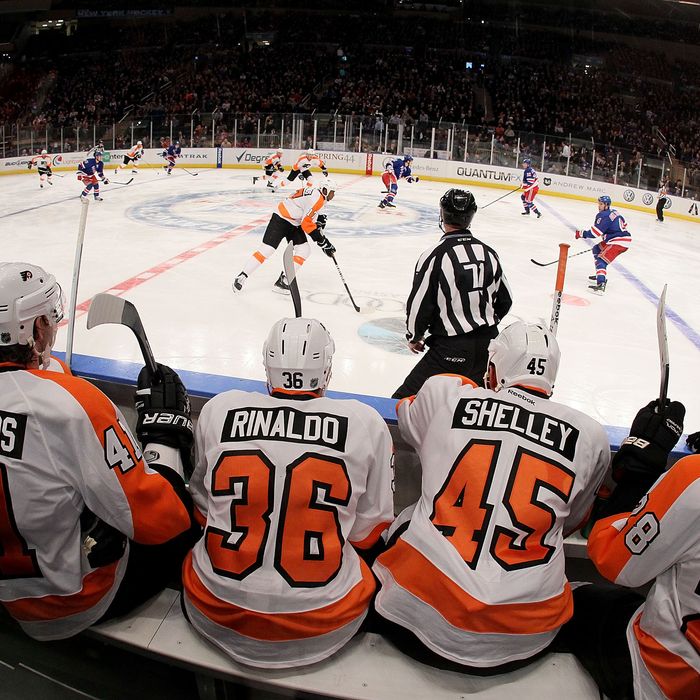 The Flyers bench during last week's game against the Rangers at the Garden.
Sometimes, HBO's 24/7 provides rare insight into what goes into preparing for an NHL hockey game: The practices, the film sessions, and so on. Sometimes, it gives viewers a look at players going about their everyday routine, be it with their families or on their own. And sometimes, it's just an excuse to capture film of the Rangers wearing ugly Christmas sweaters at a holiday gathering hosted by Brad Richards. And that's every bit as intriguing, really. (Major props to Puck Daddy's Greg Wyshynski for getting a screen grab of Michael Del Zotto's naughty reindeer sweater. To quote MDZ: "Twice the fun for Rudolph." We really hate to see this show go away after next week.)
Anyway, this week's episode reminds us that everything we've seen so far is designed to lead up to next week's Winter Classic. And so after two weeks of following the teams separately as they battle for position atop the Atlantic Division standings, Episode 3 is built around last week's game between the Rangers and Flyers at the Garden.
At the very end of this episode, narrator Liev Schreiber tells us the following: "A collection of men won't become a single unit simply by donning the same color sweater. And two such groups won't emerge as heated adversaries just because they're encouraged to." And like we said before the show began, we believe that's mostly true: There's a real rivalry here — one that began to develop long before HBO began filming. That said, it's no coincidence that these teams played each other during the week leading up to 24/7's penultimate episode.
As you'd imagine, the game included some fine chirping: We saw, for instance, Mike Rupp telling Jody Shelley that he's "fucking irrelevant." And we also saw a back-and-forth between recent Flyers call-up Tom Sestito and Brad Richards. After Sestito shouted all manner of threats at the Rangers bench ("I'm gonna knock every fucking one of you out"), Richards fired back: "One day in the NHL for you …. Fantasy camp for you." Technically, Sestito had been in the league for more like five days, but we think Richards got his point across quite nicely here.
Of course, there were plenty of fun off-ice scenes, too: We learned that Marian Gaborik hates New York drivers, and that he's willing to carry his own Christmas tree back to his Tribeca apartment. We were treated to some more Ilya Bryzgalov moments, as he celebrated the holidays at home with wife, children, and family dog that at no point reminded us of a hot blonde woman. (His son was responsible for one of our favorite moments of the night, when he told his sister, "I'm much more English-er, and you're much more Russian." Bryzgalov's daughter didn't seem amused.) And we also got a glimpse at the Christmas Eve gathering of Brian Boyle's family, which had a higher attendance than the typical Coyotes home game.
But the takeaway of this episode — other than the fact that Steve Ott of the Stars goes to NHL.com to see how he's doing on the faceoff-percentage leaderboard — is that the Rangers were in a good place heading into last weekend's quick Christmas break. They sat atop the division standings, and at one point, Schreiber's narration noted that they're in clear control of the rivalry with the Flyers at this point in the season. Next week's episode will show the Rangers moving to the top of the conference standings with a win against the Islanders before hitting a bump with last night's loss to Washington, but it's that rivalry between the Rangers and Flyers that 24/7 isn't quite done exploring. The main event — the Winter Classic — is just four days away now.