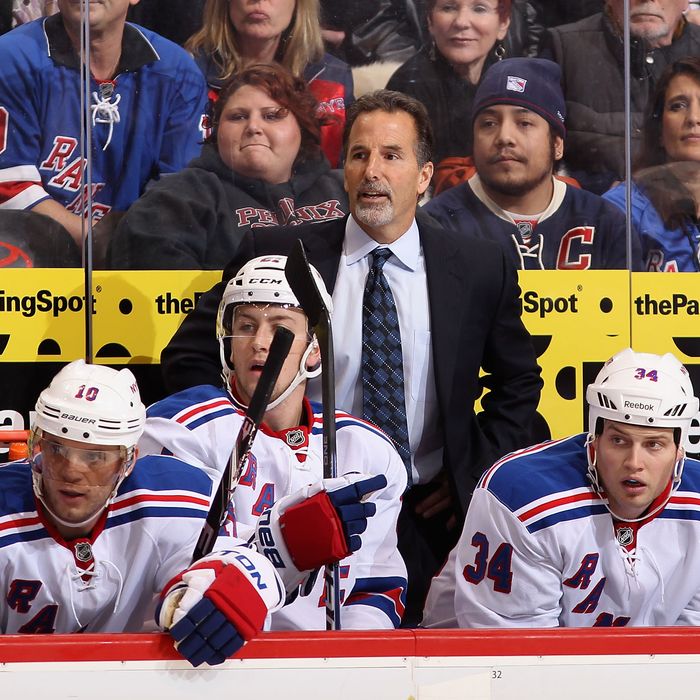 Last night's second episode of 24/7 began with Henrik Lundqvist playing guitar on a Foo Fighters song with a band in a Manhattan rehearsal studio. Lundqvist tells the HBO camera that he likes living in New York because on off days, he doesn't like to think about hockey. "You can get away from the game and lead a pretty normal life," he says. It's at this point that the show reveals that tennis legend John McEnroe is among those jamming with Lundqvist in the studio; they're rehearsing for a performance at a benefit concert in February. Needless to say, Lundqvist's definition of a normal life is different from yours or ours.
But actually, one of the things this show does so effectively is humanize the players that we cheer for on the ice. And so we see Dan Girardi play hockey in his apartment with his year-and-a-half old son. (We especially like when Papa Girardi softly shoots a toy hockey puck in the direction of young Landon, who blocks it with his feet. Like father, like son, it seems.) This isn't the first time 24/7 showed a player about to leave home for a road trip: Last year, we saw the same with Pascal Dupuis. It's already a tried-and-true element of 24/7, right up there with the look inside the players' hotel rooms — man, how old will Jaromir Jagr feel when he hears Zac Rinaldo talk about playing against him on Sega? — and the curse-filled locker room speeches.
Speaking of which, John Tortorella provided a dandy last night, following the first period of a game in St. Louis. It was exactly the kind of fiery Tortorella locker room speech we've been waiting for, and there was a real sense of disappointment in his voice as he scolded the team for not defending like he knows they can, or for not playing hard enough over the first twenty minutes. It might not be as viral as Bruce Boudreau's classic speech from last year, but it was no less impassioned. It was a big night for angry coaches: We also saw Peter Laviolette criticize the referees at the Bell Center after what he considered a missed penalty call. "Montreal typical," said Laviolette, coining a phrase we suspect we haven't heard the last of.
It was only a matter of time before we saw that side of Tortorella — the one who could drop seven F-bombs in a matter of minutes between periods. Less expected — despite some advance notice in the preview following last week's premiere — was seeing a smiling Tortorella talk about corresponding with a boy with cerebral palsy from the Garden of Dreams Foundation. That's another great thing about 24/7: When you expect it to zig and focus on the relationship between Torts and Avery (whose getting scratched from the lineup was barely mentioned), it instead zags and shows the coach's softer side.
Concussions were also a big topic this week, and for good reason: Both teams have players at various stages of injury. And so in an episode that included the news that Chris Pronger would miss the remainder of the season, we saw John Tortorella admit that he didn't know if we'd see Marc Staal return this season. But this episode also showed Claude Girioux, who sustained a concussion on December 10, doing some light exercise as part of his own rehab process. ("Flavor of the month," said one of Giroux's teammates about the nature of the injury.) As the great Liev Schreiber reminded us during his narration, no two concussions are the same.
We also saw last night how the show itself is a topic of discussion among players: The Flyers are as aware of Ilya Bryzgalov's reality-show stardom as the rest of us, and it was clear from the moment he joined the team for a meal the day after the premiere aired. Said one of his teammates, upon his entrance to the room: "Hey, Universe." That same word appeared again later as the team celebrated a victory on the ice. So now we'll wait and see how the Flyers incorporate Bryzgalov's latest musings into their daily chatter. This week's topics: How Siberian huskies are like blonde women, and why defensemen are crazier than goaltenders. Somebody, please, get this man his own show — or at the very least, a podcast, or something.