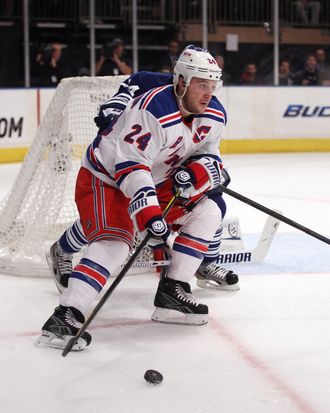 Last night's premiere of 24/7: Flyers-Rangers gave us the first two breakout stars of the season. One of them we could have seen coming. Ilya Bryzgalov has been known to give a memorable quote in his day, so bless the producers for letting him speak at length on whatever topics happened to be on his mind last week: the relative insignificance of our galaxy within the universe, for instance, or the harsh punishment for killing tigers in China. After the first hour, Bryzgalov is well on his way to winning the Bruce Boudreau Award for Best Performance by a Hockey Person in a Pay-Cable Reality Show.
The other star of the night, of course, was Ryan Callahan's 95-year-old grandmother, who probably won't make it onto future episodes, but won us over immediately by greeting the Rangers captain with the following words after a win in Buffalo: "God bless you, honey. But you didn't deserve that penalty." We absolutely believe her when she says she'd have disputed the cross-checking call to the referee herself, if that were in any way possible.
The Rangers trip to Buffalo provided another of our favorite moments of the premiere. While Callahan was dining with his parents, who'd come in from Rochester to see him play, his teammates sat a few tables over. And when the check came, we learned that the Rangers decide who will pay for team dinners by playing a game of credit-card roulette, in which everyone's plastic goes into a hat, and cards are removed until just two remain. (All Rangers team traditions this year, it seems, involve a hat.)
The two Rangers paying the bill at the Buffalo Chophouse last week? Henrik Lundqvist and Jeff Woywitka. (Woywitka, by the way, is one of the lowest-paid players on the team, but such is the cruel nature of credit-card roulette.) This scene also provided one of the best lines of the night, at least for children of the nineties: As the players were leaving, a voice we believe to be rookie Carl Hagelin jokingly announced "Thanks for dinner, losers." Which, as you surely know, is a reference to this scene in D3: The Mighty Ducks. The Eden Hall Academy varsity team would be proud.
At this point in the season, the Rangers and Flyers are both playing pretty good hockey, so we haven't been treated to any Boudreau-style locker-room freak-outs. (On our scorecard, John Tortorella dropped eleven F-bombs last night, while Flyers coach Peter Laviolette dropped seven.) Tortorella's most intense moment might have come in Buffalo, when he ripped into Marian Gaborik on the bench, before Gaborik scored his third-period goal. At least we know Gaborik appreciates his coach's honesty and direct words. Or as Gabby put it, "it's nothing going around the bushes."
Let's see, what else did we learn last night? Well, we learned that the Flyers locker-room victory song is "Knock Knock," by Mac Miller. (Mac Miller is the new D.J. Pauly D!) We learned that Sean Avery couldn't keep from smiling when he saw Artem Anisimov in the locker room following Anisimov's celebration last week in which he pretended to fire a gun. And we learned that Ryan Callahan sometimes eats chicken parm while shirtless on the team plane, or, as we like to call it, living the dream.
Of course, we also saw some things we already knew: For instance, Sean Avery is the kind of guy who occasionally spends his free time at a photo shoot, and he's also the kind of guy who will call an unidentified opponent a "fucking loser."
The Rangers and Flyers have more than a solid record in common: Both teams have players who are dealing with concussions. HBO didn't spend much time on Michael Sauer — Michael Del Zotto, who came away from his own scary incident without major injury, was given more camera time — but as you'd imagine, they devoted a chunk of time to Flyers star Claude Giroux, who was accidentally kneed in the head by teammate Wayne Simmonds on Saturday night. We got glimpses of concussion tests that Girioux subsequently underwent, and also got to see the concern on the face of Laviolette, whose best player is now out indefinitely. The sport's physical nature came up in another scene, as well, when one of the kids from the Garden of Dreams Foundation — while on the way to see the Radio City Christmas show — asked, "Why do you fight in hockey?" Perhaps that child has been reading the Times?
In closing, we'd like to congratulate anyone who had 22 minutes in their "How long will it take someone to utter the phrase 'Hartnell, you fucking piece of shit'" office pool. Go ahead and blast the celebratory Mac Miller.