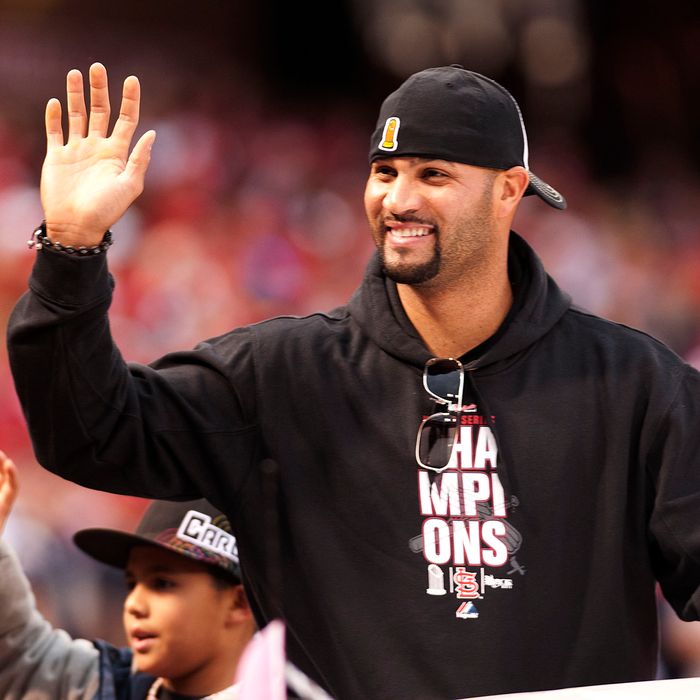 Those championship hats, sad to say, are really ugly.
I haven't accepted that Albert Pujols, as true and perfect a Cardinal as the franchise had known since Stan Musial, has signed a ten-year contract for  $250 million with the Los Angeles Angels of Anaheim, and I hope you're not expecting me to have coherent thoughts on the matter. It just happened. So I'm just gonna start a numbered list of random thoughts and then when I stop crying, the list will be done.
1. The contract is insane. Despite the repeated rumors that Pujols is older than his reported age of 32, there's been zero proof, ever, that that's true. It's still freaking nuts to give $250 million to a 32-year-old first-baseman who is already limping half the time. (And that's if they haven't back-loaded the contract like the Marlins did with Jose Reyes.) The Cardinals were never going to get close to that number.
2. And they shouldn't have. The first ten years of Albert Pujols's career have been the closest we've come to having Ted Williams back again, but there are spending limits. Even accounting for Pujols's off-the-field contributions, $250 million is ridiculous. Even if the Cardinals had Yankees money, they shouldn't have paid that much.
3. (And ask the Yankees about A-Rod in five years, if you doubt that.)
4. So much for the Vernon Wells contract taking the Angels out of the bidding.
5. Pujols will be a good fit in Anaheim, far better than in Miami. That's a solid, likable franchise, and, with Mike Scioscia as manager, he has the closest thing to a Tony La Russa replacement as you can imagine. They'll love him there. At least for the first couple of years.
6. The Cardinals are not destroyed as a franchise. They had been allotting for a crazy outside offer like this, and they'll be fine in the short term, with Lance Berkman at first base and, potentially, Carlos Beltran in right field. (That's a very likely signing in the next week, actually.) It's a shame Pujols waited until after Reyes to sign: The Cardinals would have gone after Reyes in a second, had they known funds would be freed up.
7. And that very sentence is a good example of why Cardinals fans can't be too aggrieved by the Angels signing Albert: They would have done the same thing with Reyes, another franchise's homegrown star player, had they been given the opportunity. This is how it works.
8. The Cardinals won the World Series this year. That makes a substantial difference, you know. It helps one deal with a loss like this when you just won the World Series in the most exciting fashion imaginable.
9. Albert is not LeBron, for many, many reasons. The Cardinals aren't as devastated as the Cavaliers. Pujols didn't announce this on television. The Angels aren't in Miami.
10. This also isn't Barry Bonds leaving the Pirates for the Giants. It won't be twenty years until the Cardinals are in the playoffs again. It might not even be one year.
11. The American League just got that much more entertaining. For the next three years, anyway.
12. Everyone should always refer to the Angels by their proper name: The Los Angeles Angels of Anaheim. They are not the Los Angeles Angels.
13. Albert's place in St. Louis Cardinals history is more than secure.
14. But he'll be wearing an Angels hat when he's inducted into the Hall of Fame. And that's where all this breaks down.
15. Listen: I know the Cardinals couldn't (and shouldn't have) given Albert all that money. I know Albert had every right — even every obligation, one could argue — to get the best deal for himself as he possibly could. I know that he didn't owe the Cardinals or their fans anything more than that, particularly considering the Cardinals won two World Series during his time in town. I know that the Cardinals will be fine. I know that this is just baseball and it's just a silly game and it doesn't really matter, and that we're all gonna end up dead and buried someday anyway and what use is a baseball team?, we're all just rooting for laundry, so on, so forth.
16. But Albert Pujols doesn't play for the St. Louis Cardinals anymore. That central organizing principle, not just in the lives of Cardinals fans, but in baseball itself, is over. It's surreal to even think about it. I haven't come to terms with it yet, and I'm not sure I will. It's fine. Albert will be fine, and the Cardinals will be fine, and the Angels will be fine, and everyone will move on with their lives. But Albert Pujols and the Cardinals were linked in the way that Derek Jeter and the Yankees are linked, the way that Cal Ripken and the Orioles were linked, the way that Tony Gwynn and the Padres were linked. That is one of baseball's unique pleasures: The way one man can become an institution in a place, someone who 5-year-olds can talk about with 85-year-olds. Albert Pujols is not a bad person for leaving the Cardinals, and the Cardinals are not less of a franchise for losing him.
17. This was rational actors acting rationally. There is nothing anyone should be ashamed of here.
18. It still feels like we all lost something. It still feels like something everyone's gonna end up regretting. It still feels wrong. I suspect it always will.