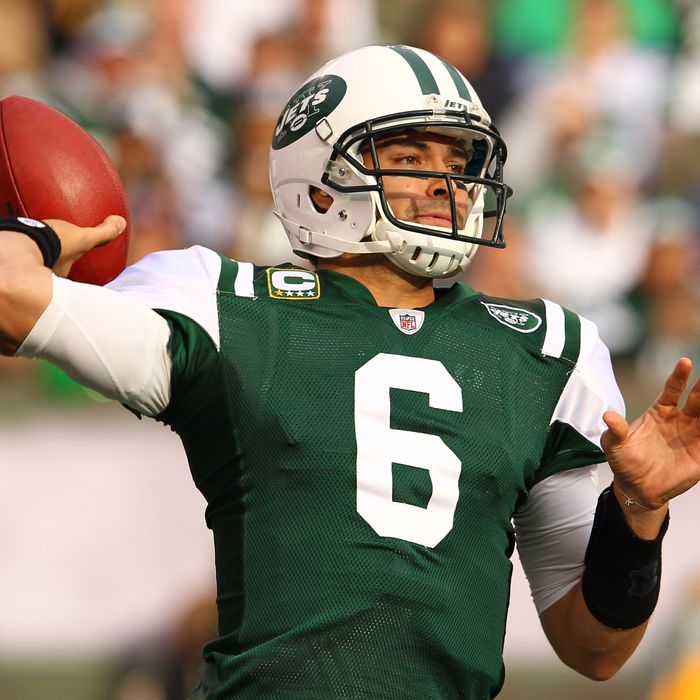 The Jets avoided disaster last week against the Bills, staging a fourth-quarter comeback to remain within striking distance of playoff contention. Though he threw a career-high four touchdown passes, Mark Sanchez has been the subject of minor controversy since, mostly because of the boos that reportedly rained down on him during pre-game introductions. The booing was significant enough, it seems, to compel the rest of the Jets to rally in Sanchez's defense. Perhaps because, even after a comeback win, Sanchez hadn't done enough to dispel the boos on his own, completing less than half of his passes and throwing another ghastly interception to stoke the fire. Though the Jets are back in the win column, the onus remains on Sanchez.
Sanchez will be tested this week against the Redskins, a team that, while struggling, is both wholly unfamiliar and gifted at the pass-rush (tied for third in the NFL in sacks), if not the secondary. Still, a member of the secondary had something to say about Sanchez. Said DeAngelo Hall to the Washington Post:
"He doesn't take as many chances as much as he just gets confused some times," Hall says. "A lot of times he just comes out and stares a receiver down, tries to throw him the ball. He puts it on those guys to make plays. They haven't made as many plays this year as they have in previous years."
Hall qualified those comments by calling Sanchez, "middle of the pack" and "definitely not the worst". All told, Hall's published words were nothing beyond the usual game-week chatter, but did serve to keep the focus on Sanchez heading into Sunday's game. The Jets have ample time to either streak into the playoffs or crumble into oblivion, and Sanchez is likely to be the face of either endeavor.