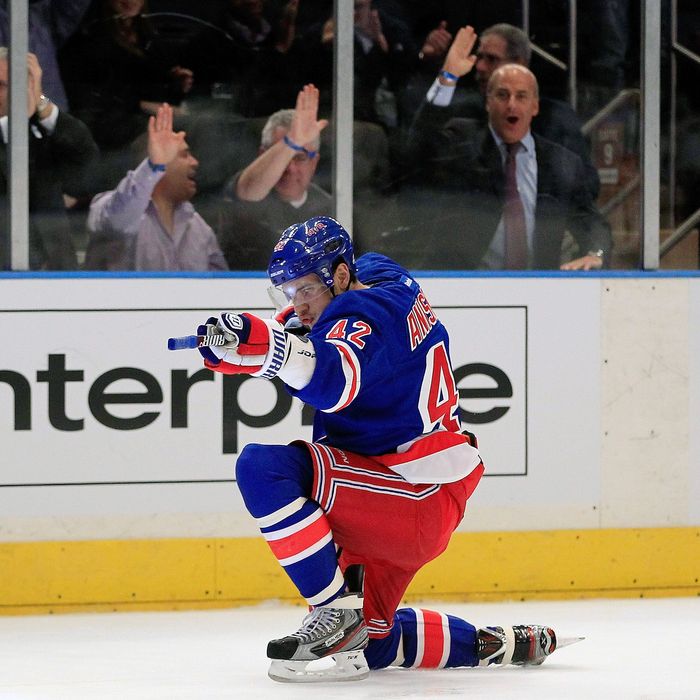 Artem Anisimov's goal celebration last night.
We can't help but watch Rangers games these days without wondering how things might be presented when HBO's 24/7 premieres next week. And that's true for normal, run-of-the-mill hockey stuff: We wonder how John Tortorella will react to a bad period, or what practice looks like after the team struggles on the power play. But last night, Artem Anisimov, of all people, gave HBO some great material for next Wednesday's episode.
In the second period of the Rangers'$2 3-2 shootout loss to Tampa Bay — a game they gave away late — a nice passing play led to an Anisimov shorthanded goal that gave his team a 2-1 lead. Which is where things got interesting: During his celebration of the goal, Anisimov turned in the direction of Tampa Bay goalie Mathieu Garon, and pretended to "fire" his stick as if it were a gun. (It called to mind this Teemu Selanne celebration — in which he threw his glove in the air and pretended to "shoot" it — except Selanne didn't seem to direct his actions at the opposition.)
Obviously, the Lightning took offense to this, with captain Vincent Lecavalier immediately approaching Anisimov. Other players got involved as well, and though it wasn't the wildest brawl we've ever seen, the ensuing melee resulted in 38 minutes in penalties. What makes this all rather strange is that Anisimov is hardly the kind of player you'd expect to spark something like this. Here's the video, if you missed it last night:
After the game, John Tortorella made it clear that he thought Anisimov crossed a line, and that he didn't blame Tampa Bay for reacting how they did. But he also went into protective mode: He didn't make Anisimov available to speak with the press last night, and during his own post-game remarks, called Anisimov "a great kid" and, in general, "a pretty innocent guy." Said Tortorella: "There's a lot of idiots in our league, and he isn't an idiot." It's for that very reason we don't think this will get any bigger than it needs to. You won't be reading the phrase, "Well, that's just Anisimov being Anisimov" at any point today. (Needless to say, the reaction to all this would have been different if it had been, oh, Sean Avery.) But as ugly as it was, we'd be lying if we said we weren't looking forward to a behind-the-scenes, uncensored look next week at the incident itself, the ensuing brawl, and perhaps even how it was handled in the locker room afterwards.