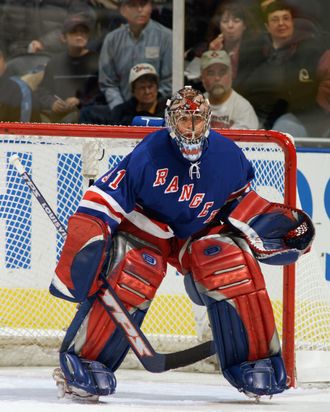 The Rangers selected Dan Blackburn with the tenth overall pick in the 2001 NHL draft, and when he made his debut with the team on October 10, 2001 at the age of 18 years and 143 days, he became the fourth-youngest goalie to play in an NHL game. Blackburn appeared in 31 games in his first NHL season and was named to the league's All-Rookie Team, but he'd play a total of just 63 NHL games before nerve damage in his left shoulder forced him to announce his retirement in 2005 at the age of 22. On Saturday, Blackburn will serve as one of the Rangers' goaltenders in the Winter Classic outdoor alumni game at Citizens Bank Park in Philadelphia. He spoke with the Sports Section about his injury, changing careers, and playing forward in his local men's league.
Is an alumni game like this different for a goalie? On the one hand, it's for fun, so if you're a skater, you don't exactly need to treat it like a playoff game. But if you're a goalie, you don't want to get lit up.
Yeah, definitely. It's way easier to play forward in a game like this than it is to play goalie, because those guys can kind of, like you said, have fun, relax, enjoy themselves, not go too hard, because they can kind of hide in the weeds out there. Whereas playing goalie, there's no hiding. You gotta be going 110 percent like you would in a regular game, or everybody knows that you're not playing well.
When you were playing in the ECHL attempting to come back from your shoulder injury, you wore two blockers. Will you be doing that on Saturday?
Yeah, absolutely.
What's that like? What are the advantages and disadvantages of wearing two blockers?
I use it to sort of circumvent my injury, but it does have some advantages to it. You take up a little more space in the net, as far as any shots that would be high to your glove side, because your elbow's out, instead of your elbow being in. But other than that, that's about it. There's not really any other advantages other than that. It's harder to play the puck, and obviously you can't catch anything.
Do you remember how your injury happened, or when you first noticed something was wrong? Can you pinpoint a moment where things started to go wrong, or was it something that sort of developed?
Both. I remember the moment I was lifting weights in a hotel weight room with my dad, actually. We were going to play golf later that day. And I was just doing a bench press, like I would training any other day, and just felt a minor little tweak in my shoulder. Nothing out of the ordinary. I just thought it was maybe a small pulled muscle or something. And then over the course of a couple of weeks, it just got progressively more painful, to the point in about two or three weeks where I couldn't even raise my hand over my shoulder. And I knew there was something more wrong here than was initially seen. I had a couple of different tests at one of the Rangers' summer camps that they had going on at the time for prospects, and everything came back negative. And so despite the fact that I couldn't really do anything with my arm, I went out on the ice to see if I could play, and about ten, fifteen minutes into the ice time, went for a puck, and separated my shoulder. And the signs of nerve damage appeared about a week after that.
That's gotta be tough to retire at 22.
Yeah, it sucks. It sucks for sure. But I mean, at that point in time, after dealing with just the mental anguish of being in that position for a couple of years — you're part of the team, but you're not really part of the team, because you're not playing, you're not on the road, you're not in the dressing room, you're kind of on your own island, and then also that coupled with the lockout, where nobody else is in the training facility at all, and I was the only one there for almost an entire year — that just wears on you mentally. And to be able to retire at the end of it was almost like a relief for me because it was some closure to the issue.
Before you started getting ready for this game, when was the last time you'd put on goalie pads?
I played I think once a year for the last, like, three years. The Rangers have had an alumni game where they put on the "Race to the Garden," where it's like a men's league tournament and the winner plays against the alumni in the Garden. I played goal for us the last couple years. But that's really been it. So once a year.
I'd read something from earlier this year about how you'd been involved with training goalies with the Goaltender Development Institute. But what are you up to these days?
I do a little bit of coaching and stuff, but no, I I kind of transitioned out of that. I've been working in the distressed real-estate market here in Dallas, so I help people avoid foreclosures.
At what point, after you retired, did you start to consider transitioning out of a career in hockey entirely?
After I retired I went to school briefly, to see if I wanted to do that. And at that age, having the different experiences that I had compared to the people that were there, it just didn't make sense to do that for another four years. So I decided to get into business right away. That's what I did with GDI, and I worked there in that business for four years, five years, coaching and manufacturing goalie equipment. And then [I] just recently transitioned out of that into the real estate business.
Are you enjoying that?
Yeah, I like it. It's different. You certainly learn a lot and deal with a lot of different people.
Do you keep in touch with any of your teammates from your NHL days?
You know, when I played, the Rangers were a much different team than they are now. It was a bunch of old — I'll call them old — guys. I was the youngest guy on the team by eight or nine years, so it was tough to develop close relationships with people when there was that disparity in age. But whenever I see people, it's always good to see them and catch up, and I do that usually at the alumni games the last couple of years. The event coming up will be the largest gathering of former players, so it'll be fun.
I was reading that you play in a men's league these days, but not as a goalie.
Yeah, that's what I usually play now, on a men's league team. I play forward on that. My injury doesn't actually stop me from being able to shoot the puck or all the things a forward would do. I just can't really play goalie properly.
May I ask, are you standout in the league? Do you score a lot of goals?
I try to. I like to score. It's a lot more fun scoring goals than it is stopping pucks, that's for sure.
That's surprising to hear from a goalie, that it's more fun to score than to stop shots.
I think sometimes it's different. I don't know any goalies that retire and then want to play goalie in men's league. It's one of those things where it's just no fun after you've done it at that level to go into men's league. It's the same as the game this weekend — all the pressure comes back to you, and there's no way you can relax at all. Because if the puck goes in, everybody knows it's your fault. That's why we all play forward or defense.
So that's a common thing?
There's just too much pressure on you. It's no fun once you've played at that level. There's just too much expectation from the other people on the ice and from yourself that you just don't want to do it.
How many goals have you scored this season? Do you have any idea?
Oh, I don't know. I'm one of the better players.