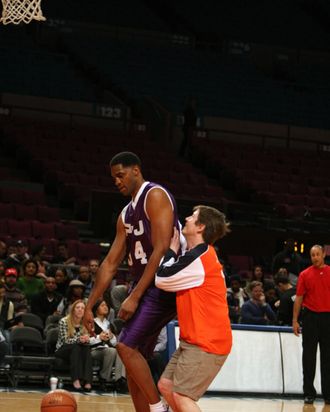 Charles Smith, being "guarded" by New York magazine contributing editor Will Leitch.
It's been nearly nineteen years, but the name Charles Smith still invokes a heartbreaking memory — the heartbreaking memory — for many New York basketball fans: Knicks at the Garden, down one, fourteen seconds left in the fifth game of a tied playoff series against the Chicago Bulls, Smith with the ball inside the paint, in a sea of red jerseys. The six-foot-ten small forward goes up strong. Horace Grant blocks it. Smith gets the ball back and tries again. Michael Jordan swipes the ball loose. Smith recovers and tries another layup; Scottie Pippen blocks it from behind. The ball comes back to Smith once more, and Pippen rejects the shot again. All this happens in six seconds. The Bulls held on to win the game and the series in route to their third consecutive title. You might remember.
Smith's reputation in New York never quite recovered. Fans booed him during games and catcalled him on Manhattan streets, and after a final stint with the San Antonio Spurs, Smith retired in 1997.
"I got fouled on that play," Smith says today, in Hong Kong. "We can ask Scottie next weekend when he's here."
Smith is referring to Pippen, who is one of the headliners in an exhibition basketball game Smith helped put together, scheduled to take place at the Venetian Macao this Sunday.
That Smith is now working with the man largely responsible for that nightmare sequence (two, actually, as Horace Grant is also part of the bill) is a sign of things coming full circle. And it took Smith a while to get here.
He left the basketball world after retiring from the NBA, starting a digital media company that dealt with corporate clients such as Hewlett Packard. But with operations based in Manhattan, Smith was never far away from the Knicks, Madison Square Garden, or those vocal New York fans.
"It doesn't bother me that most fans only remember me for that one incident," says Smith. "It would have bothered me had I not given it my all, but I gave it my best effort." 
After a decade of being an entrepreneur, Smith returned to the basketball business in 2008 when he became the executive director of the National Basketball Retired Players Association, a group that looks after the welfare of former NBA ballers. 
"I've always had a business mind," says Smith, who first started working at age 12 as a paperboy in Connecticut. "And I've kept good relations with all my peers."
During Smith's two-year run, he launched the initiative TAP (Transition Assistance Program), which helps former players transition into second careers or life after basketball. The partnership between Smith and the NBRPA has since soured — Smith left the NBRPA in 2010 — but the initiative is still going strong. 
Smith's new venture is a rival group of sorts to the NBRPA, but with a bigger, more international scope. Named The Pro Basketball Alumni Association, Smith hopes to generate revenue streams for both former players and corporate partners of the PBAA through events such as the exhibition game in Macau, a special administrative region south of China that's overtaken Las Vegas as the world's top gambling spot the past few years.
Smith understands that China, with a booming economy and the highest number of basketball fans, is a lucrative market that deserves attention, so his PBAA has brought out the big guns — as far as retired players go — for this inaugural event. In addition to Pippen and Grant, former stars such as Penny Hardaway, Gary Payton, Dennis Rodman, Clyde Drexler, and Larry Johnson will all be playing. Aside from the exhibition game in Macau, the PBAA will hold basketball clinics in the U.S. and Asia in a series of goodwill activities. Smith admits many former players need financial assistance or general life guidance, but defends the situation.
"When you're given everything from age 16 on, and then you become a multimillionaire at age 18 or 19, it's hard to learn how to handle all that wealth and responsibility," he says. "So when your career ends, and suddenly you're sitting at home everyday, it's a very tough transition."
Smith says he was fortunate to learn his life lesson early in his playing career. "When I was with the Clippers, I was so stressed from the constant losing that I developed a medical condition called alopecia areata," he says. "I was losing patches of hair here and there. Luckily, this was when the high top fade was in, so I disguised it with a fade."
Smith went to a psychiatrist, who advised him not to take basketball too seriously. It helped him deal with the pressures of playing in New York, especially after "The Charles Smith Game."
"I look back at my stint with the Knicks and I had a blast, man," he says. "Playing for a contender and alongside great players such as Patrick [Ewing] and John [Starks], I wouldn't trade it for anything in the world."