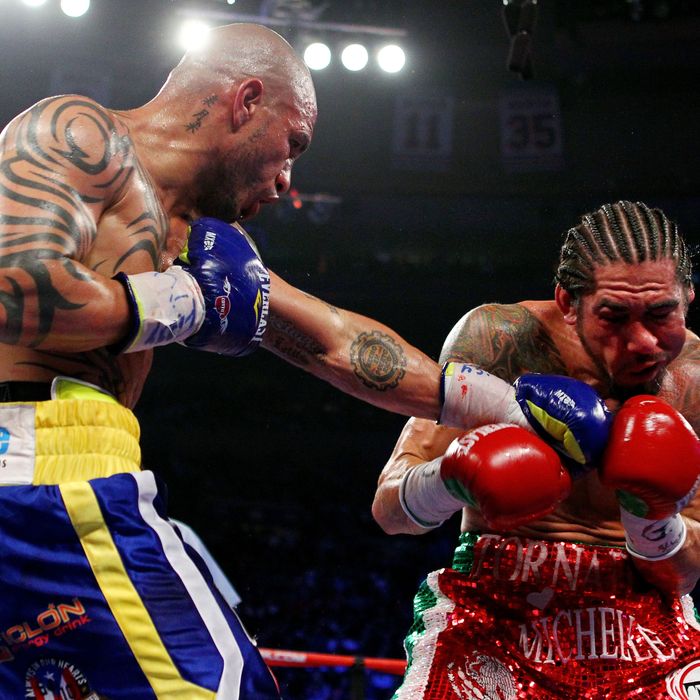 Cotto lands a blow to Margarito's right eye.
It wasn't quite Macduff and Macbeth, but as revenge battles go, Saturday night's junior middleweight title fight at Madison Square Garden, in which the champion Miguel Cotto stopped Antonio Margarito in the tenth round, will have to suffice for now. 
For those not versed in the annals of pugilistic bloodlust:  In 2008, Cotto — the latest in a long line of Puerto Rican fight heroes — was beaten to a near literal pulp by the hardscrabble Mexican Margarito, a.k.a. "the Tijuana Tornado." This was an upset,  since Cotto, unbeaten at the time, was widely considered to be a higher class article than the crude but persistent Margarito. The result, however, was not as remarkable as the damage Cotto incurred.  When the fight was stopped in the 11th round, the fighter's face looked like a melon that had fallen off a truck. He was a bloody mess. Several months later, in the dressing room prior to another bout, it was discovered that Margarito's "hand wraps" (the padding boxers wear under their gloves) contained a layer of Plaster of Paris. This, as many pointed out, was tantamount to hitting an opponent with a brick.  Despite denials, it seemed likely that Margarito had used the same tactic in the Cotto fight and in who knew how many other contests.
In any just society Margarito, who started fighting for money in ad hoc Tijuana arenas at age 15, should have been put on trial for assault with a deadly weapon and thrown in jail.  But since this is boxing, where legality is fungible and what Don King calls "skullduggery and trickeration" rules the roost, Margarito, now largely referred to as Margacheato, got off with a year's suspension. When he resurfaced in 2010, he was recast  as boxing's most hated man, a market niche which has enabled the grizzled fighter to collect the largest paychecks of his long career. The Cotto fight was the narrative capper, an irresistibly sweet promotional setup: The wronged hero set to avenge himself before 20,000 of his screaming countrymen at the Garden, the self-proclaimed Mecca of Boxing.
Love it or hate it (it was easy to hate), this was one fight everyone — or at least anyone who ever rubbernecked during a barroom brawl or a BQE crash-up — had to see.  One had to go back as far as the 1984 Roberto Duran-Davey Moore fight to find a match that generated as much New York street heat as Cotto-Margarito II. The Garden, which hasn't had a card in the big room in more than two years, was sold out. Scalpers were hawking $600 tickets for $2,500. 
Friday's weigh-in, open to the public, attracted several thousand people, 95 percent backing the clean-living Cotto. This afforded Margarito an opportunity to go into his Satan act, a role he has ardently embraced.  Called to the scale, sporting a copious mane of jet-black hair and a clumpy Fu Manchu chin patch, the fighter took his time stripping down to scanty briefs. Then, as boos filled the room,  he pulled a black skull cap onto his head and spent several moments rearranging his sunglasses. Finally on the scale, he went into an extreme frontal flex and stuck his tongue out at the disapproving crowd. 
The mala sangre thematic (with good guy Cotto playing the slightly corporate, square-jawed man of few words) churned through HBO's promotional mill for weeks, but the weigh-in and the onrush of fight night had something more.  That old-time mayhem vibe was in the air, a throwback to the sixties and seventies days when any Garden match involving Latin fighters was even money to break into flying bottles. On one legendary evening at the old Garden on 50th Street, after Jose Torres lost a decision to Dick Tiger in a light-heavyweight title bout, the house Hammond B organ was tossed out of the balcony.  These incidents, always played in the papers for maximum ethnic uproar, were supposedly killing boxing.  The Garden stopped having the nationalist-intensive shows, which really almost killed boxing in New York.  But now, with the renewed lure of a chance to vent therapeutic bloodlust,  the Garden was, as they say, rocking.
 The fight itself did not wholly satiate.  Much of this had to do with Cotto, who, finding himself in a mythic context, stayed true to his buttoned-down work ethic rather than give free rein to his machismo. For all his silent staring at nemesis Margarito, it seemed that all Cotto wanted to do was beat the guy, to prove he'd been cheated the first time around.  Margarito's fate was sealed early on.  Due to a broken orbital bone in a previous fight (Margarito should have never been in the ring, but how could he pass up this payday?), the Tijuana Tornado arrived as damaged goods.  When his right eye began to swell after the third round, it was a matter  of time before it closed completely. All Cotto had to do was move around and flurry every so often. Eventually the doctor, not anxious to see the eyeball of even such a villain as Margarito roll across the Garden's newly renovated floor, stopped the fight. 
Otherwise unhurt, Margarito, a kill-or-be-killed type, complained and demanded to go on. It was not to be. Cotto had his revenge. He was still the champ. The crowd cheered mightily but without the coup de grace, the twitching head of Antonio Margarito smack on the canvas, there was feeling of anticlimax, something missing. That was likely just as well, but still, the fantasy was fun while it lasted.