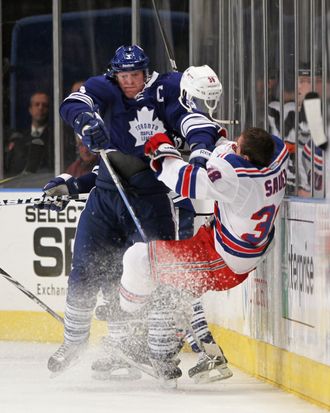 Perhaps the Rangers read that we were looking forward to seeing their coach's behavior following a bad period on HBO, and they wanted to get such a period out of the way as soon as the 24/7 cameras began following them full-time. Or maybe they were due to cool off eventually. Or it could be that they just don't match up very well against the speedy Maple Leafs. But the Rangers weren't very sharp out of the gate last night, and fell behind 3-0 less than seven minutes into the second period. And though they'd play better after cutting the lead to 3-2 later in the second — and would generate a handful of good scoring opportunities — they couldn't get another puck behind Jonas Gustavsson, and would lose 4-2.
But the clip that's making the rounds this morning isn't of any of the game's goals, nor is it a preview clip of what the HBO microphones set up near the Rangers' bench might have picked up last night. Rather, it's this video of a clean-but-crushing Dion Phaneuf hit on Michael Sauer that sent the Rangers' defenseman to the locker room and put a smile on Papa Phaneuf's face up in an MSG luxury box. We'll embed the videos from both the New York and Toronto telecasts; needless to say, the announcers' enthusiasm for the hit differs depending on the broadcast. (As you'd imagine, footage of Phaneuf's father high-fiving the other Leafs dads can be found in the Toronto clip.)
Sauer was being evaluated by team doctors last night, but yikes: His helmet popped off and his unprotected head hit the boards. And so while injury speculation isn't usually wise, there's a reason some reports today include phrases such as "likely concussed." (Or, as Rick Carpiniello put in on the LoHud Rangers Blog: "I'm assuming Michael Sauer has a concussion, or at least, that he's being treated as if he may have a concussion.") The Rangers next play Thursday night, at home against Tampa Bay.