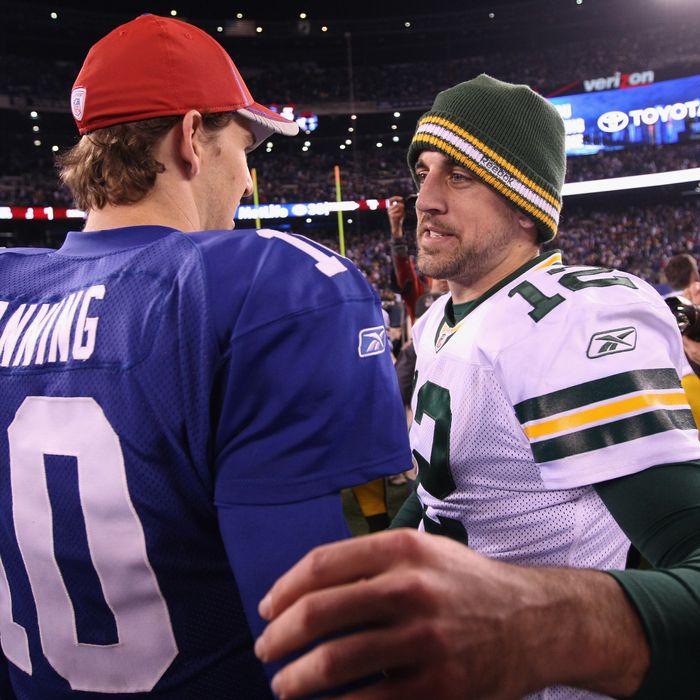 Eli Manning and Aaron Rodgers.
If ever the Giants needed an early touchdown — and not just any touchdown, but an exciting one that would wake up a fanbase that's seen so much terrible football over the past couple of weeks — it was yesterday. And indeed, from the very start of yesterday's game, the Giants were not pushed around by the mighty Packers. They didn't embarrass themselves against the most elite of the NFL's elite teams. They hung with them until the very end. But alas, the Giants didn't spoil Green Bay's perfect season yesterday. They gave them a hell of a fight, but it was Aaron Rodgers and his teammates that left MetLife Stadium with a 38-35 victory.
And, oh, how the Giants teased us: The Packers scored with 3:34 to extend their lead to eight points, but Eli Manning — plenty comfortable in these situations — took the Giants 69 yards in two minutes and 36 seconds, eventually finding Hakeem Nicks in the end zone to bring the Giants within two. Then D.J. Ware ran in the two-point conversion to tie the game, and suddenly the Giants were less than a minute away from taking the undefeated Packers to overtime.
Thing is, to leave Aaron Rodgers 58 seconds is to leave him 58 seconds too many. In that final minute, we witnessed a quarterback at the very top of his profession: Rodgers took the Packers 68 yards on four plays to get them into field-goal range, and in doing so trumped Eli's own fourth-quarter heroics. And so when Mason Crosby's game-winning field goal sailed through the uprights, Giants fans could be forgiven for having any or all of the following reactions: Frustration that they came so close to a huge upset and didn't get it; satisfaction that they at least hung with such an outstanding team (even if it's really too late in the season for moral victories); and a sense of awe that Rodgers could make a minute-long game-winning drive seem, if not necessarily easy, then somehow inevitable.
The Giants improved in a couple of areas yesterday, though that's probably not saying much coming off their ugly loss to New Orleans: They ran the ball a little better, and applied at least some pressure to Rodgers. But for the Giants to win this game, they needed to play something close to flawless football, and it didn't happen. Manning wasn't quite as good as Rodgers; Manning's team wasn't quite as good as Rodgers's team. Perhaps there's no shame in that, but facts are facts: They lost their fourth straight game yesterday.
Of course, the Giants got some help in the standings from the Buzzsaw that is the Arizona Cardinals. In each of their last two games, the Cowboys squeaked by an inferior opponent, but yesterday, they lost to Arizona in overtime to drop to 7-5. Which means that they'll have a one-game lead in the NFC East when they host the Giants next Sunday night in the first of two critical games between the division rivals. The most difficult part of the Giants' schedule might be over, but the most important part is just about to begin.