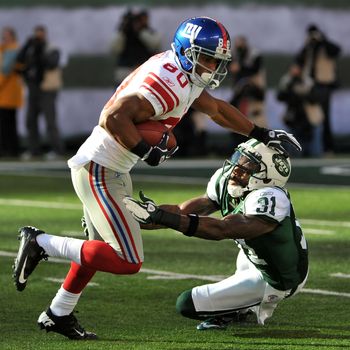 At a press conference earlier this week, Rex Ryan told reporters the following about the Jets' matchup with the Giants: "You feel like you have to win this game. I feel like I have to win this game. Because, I put it out there: I want to be the better team in our city, there's no doubt. I want to be the team that people talk about, that are interested in, and you do that by winning." Ryan's right when he says that the best way to get people talking about a team is to win, but surely he understood that to get the city's attention, it would take more than a win over the Giants today. As a coach who's reached the AFC title game two years in a row, Ryan knows as well as anyone that getting into the playoffs and going on a run is the best way to dominate the city's back pages, particularly if the other team is at home watching. And today, it was the Giants that took a big step towards a postseason berth, beating Ryan's Jets 29-14 at MetLife Stadium.
This game was hardly pretty: The first seven drives of the second half ended in punts, while the fourth quarter saw everything from a touchdown called back because of offensive pass interference to a fumble call overturned because of the tuck rule to a Mark Sanchez fumble on the Giants' one-yard line. (All of that, by the way, came on just one Jets drive.) And not to be outdone, Eli Manning threw a pick on the first play of the subsequent Giants drive. It wasn't a great day for either quarterback: Manning completed just nine of 27 passes, while Mark Sanchez was 30-for-59 (yes, 59) passing, with three turnovers in all. Which isn't to say the game didn't have it's moments: After all, it included a 99-yard touchdown reception for Victor Cruz on the day he set the franchise record for receiving yards in a season.
The game was closer in the fourth quarter than the final score might indicate: A one-yard Sanchez touchdown run and the subsequent extra point cut the Giants' lead to 20-14 with 7:17 remaining. And the Jets would twice get the ball down by six: One possession ended with a punt; the other ended with a safety. The Giants would go on to recover an onside kick and Ahmad Bradshaw would run for a touchdown with 2:04 remaining, and at that point, with a 29-14 lead, Tom Coughlin's club could begin looking ahead to next weekend's matchup against Dallas.
The Giants' playoff picture is quite simple now: Beat the Cowboys at MetLife Stadium next Sunday, and advance to the postseason as the NFC East champion. Lose, and the season's over. But the Jets' loss means things have suddenly gotten complicated for them. Rich Eisen Tweeted what appears to be the most succinct version of what needs to happen for the Jets to get into the playoffs:
Just confirmed by NFLN research: only way Jets make playoffs is win at MIA and get CIN loss, TEN loss and Oakland loss or Denver loss.
Needless to say, that's not ideal. Meanwhile — and you're not going to believe this — there was still more trash-talking after this one ended. You can read most of the details of what went down between Brandon Jacobs and Rex Ryan here, but Mike Garafolo of the Star-Ledger relays the money quote by Jacobs (overheard by the photographer that snapped this shot) via Twitter: "It's time to shut up, fat boy." The Giants earned bragging rights today, we guess, but more importantly, they earned a simpler path to the playoffs next weekend. The Giants still have a huge game ahead of them on New Year's Day — and let's remember that absolutely nothing comes easy for this team — but they're just a win away from a playoff berth and all the attention that comes with it. The Jets, meanwhile, not only need to win, but need some help now. Should they fail to get into the playoffs, people will still be talking about them, to be sure. They just won't be saying the types of things that Ryan had hoped.