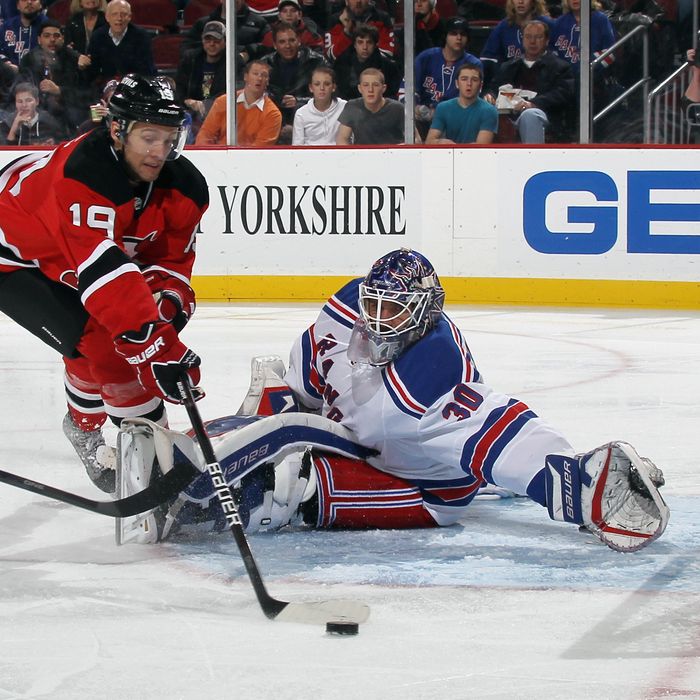 There are many wonderful things about how well Henrik Lundqvist has played against Martin Brodeur and the Devils in his career, but it's all the sweeter when you recall how much trouble the Rangers had beating Brodeur once upon a time. Prior to the lockout of 2004–05, Brodeur had posted a 29-11-15 regular-season record against the Rangers while establishing himself as one of the best goalies, not just of his era, but of any era. (Because the pre-lockout days seem like forever ago, we'll remind you that the "15" in that stat refers to ties, not overtime losses.) Since that work stoppage, though, it's been a different story: Lundqvist made his NHL debut in the first post-lockout game between these teams, and though that one ended with a Devils overtime victory, Lundqvist has owned Brodeur in the years that followed. With last night's 4-1 Rangers win in Newark, Lundqvist is now 21-5-5 in his career against Brodeur.
There's a certain logic there: Brodeur's best days are behind him, and though his third and fourth Vezina trophies came after the lockout, his Devils teams aren't as strong as they once were. Lundqvist, meanwhile, is still in his prime. But every once in a while, we're reminded how far the Rangers have come over the last decade or so — how they've transformed themselves into a competitive, likeable hockey team after years and years of missing the playoffs. Not to make too much of just one win — though Lundqvist was terrific last night, stopping 30 of 31 shots — but seeing those head-to-head numbers serves as one of those reminders. No longer must Rangers fans read articles like this one from March of 2004 about how the Devils have dominated the rivalry.
We wrote the other day that injuries on the Rangers' blue line mean added pressure on the team's healthy defensemen. But they also mean more pressure on Lundqvist, who will be playing behind a defensive corps that isn't likely to be as effective as the one that started the season. Last night, he came up big — and it certainly didn't hurt that Marian Gaborik, who scored twice, continued to put last season in his rearview mirror. That's two wins in a row for the Rangers, who next face the Islanders tomorrow night.