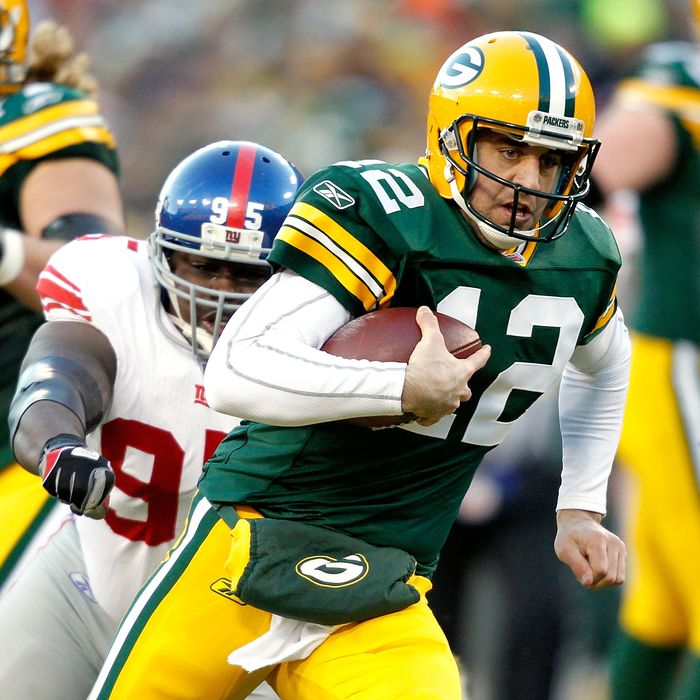 Aaron Rodgers, last season.
It's possible to find football experts who pick the Giants to beat the Packers this week — though we've come across at least one who made that prediction a couple of weeks ago, regrets it, but is sticking by it anyway. But let's not kid ourselves: This is going to be an awfully tough game for the Giants. The well-rested Packers come into MetLife Stadium undefeated, averaging a league-best 34.7 points per game. And their quarterback is having a season for the ages, leading the league in passer rating and completion percentage (and also insurance commercials we're sick of seeing every twelve minutes). The Giants meanwhile, have embarrassed themselves on national television two weeks in a row.
This week, you might have come across reminders that the Giants have pulled off upsets against undefeated teams before. Michael Strahan — who was part of the Super Bowl XLII–winning team that inspired all those 18-1 T-shirts — gave a pep talk to the defensive line this week. And the Post today gives the example of the 1998 Giants, who despite a 5-8 record, beat the 13-0 defending-champion Broncos. Shannon Sharpe was on that Broncos team, and, via the Post article, said that Denver didn't take Kent Graham and the Giants lightly. "They just played flawless football and we didn't," he said. And so that's all that needs to happen: The Giants need to play flawless football, and see to it that Green Bay doesn't. Needless to say, the odds of both of those things happening on Sunday aren't great.
The Giants have the toughest schedule among playoff contenders over the final five weeks, though that's in part because they'll face an 11-0 team this Sunday. The week after, they'll play the first of two critical games against Dallas. But just like you shouldn't look past a cupcake of an opponent and assume a win, we guess you shouldn't look past a steamroller of an opponent and assume a loss, either. So here come the undefeated Packers on Sunday. It could be ugly. At the very least, we hope that, unlike Monday's game in New Orleans, this one is competitive. Is that really too much to ask?