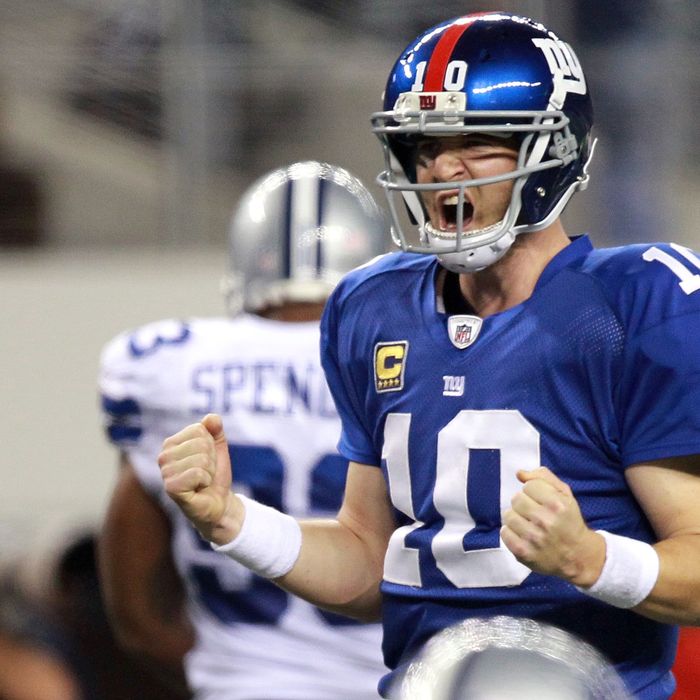 The Giants have been a maddening team to watch this season, and that was never truer than in the final seven minutes of last night's game against the Cowboys. Two plays after Eli Manning threw an interception to give the Cowboys the ball up by five with 6:35 to play, the Giants secondary left Dez Bryant wide freaking open—in crunch time of the most important game of the year—for a touchdown. The Cowboys led by twelve points, and the Giants hardly looked like a team that deserved a playoff spot. Then Eli Manning and the offense got the ball back, and got to work.
Eli drove the Giants down field for a touchdown in under two-and-a-half minutes, and now it was the Cowboys making mistakes: Tony Romo overthrew an open Miles Austin on third-and-five; a short punt from Mat McBriar gave the Giants solid field position, at their own 42 yard line; and a Dallas penalty gave the Giants a huge first down on the ensuing possession. Suddenly, the Cowboys looked powerless to stop the surging Giants, who just minutes earlier appeared doomed. Brandon Jacobs would eventually give the Giants a one-point lead on a one-yard touchdown run, and D.J. Ware would extend the lead to three on the two-point conversion. Eli Manning — who's been so good during this otherwise frustrating season — had done it again, in the most important quarter of the year.
And the Giants defense made Manning's fourth-quarter magic hold up. Jason Pierre-Paul's block of Dallas's field-goal attempt — one that followed Tom Coughlin's time out to try to ice the kicker — might close all the highlight packages today, but he'd also made a terrific open-field tackle a couple plays earlier. Last week, the Giants couldn't stop Aaron Rodgers and the Packers on their final drive. But this week, they kept the Cowboys off the scoreboard in the closing seconds. Your improbable final score: Giants 37, Cowboys 34.
To be honest, we're not sure the ending of this game has totally set in yet. We're still processing the emotional turnaround from the Bryant touchdown to the Pierre-Paul blocked field goal. This Jekyll-and-Hyde Giants team has been torturing us for more than a month now — looking so dangerous at times and so incompetent at others — and last night we saw it all packed into a half a quarter. But unlike their last couple of close games, this time they escaped with a win, and it was one they badly, badly needed. They host Washington next Sunday, and by the time they play, they'll already know what Dallas has done the night before. But last night's win means that the Giants, with three games remaining now, continue to control their own destiny.