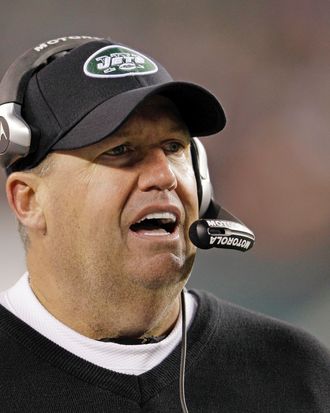 Is this the end for our heroes?
The Jets absolutely do not deserve to make the playoffs this season, and they're probably not going to. They need Tennessee, Cincinnati, and Denver-or-Oakland to lose, and they must beat Miami, themselves, as a side issue. It's extremely unlikely that this inferior Jets team has any chance. In other words, it is just like two years ago at this time.
In 2009, of course, in Rex Ryan's first season, the Jets came out of nowhere — having made the playoffs only because both the Colts and the Bengals essentially laid down for them — to reach the AFC Championship Game. It was that postseason run, the one that never should have happened, that brought Ryan his reputation and inspired all the enthusiasm for the franchise and the franchise quarterback. Last year, they made the AFC Championship Game again (and we remind again that Mark Sanchez was terrific in Pittsburgh last year). The Jets seemed touched by destiny — chosen, almost.
As we wrote in the magazine earlier this month, the whole Jets aura of trash talking and domination has been fostered by the idea that, eventually, the Jets will figure it out. We forgave Sanchez's inconsistency, Ryan's profane (and amusing) outbursts, even an entirely unrequested briefing into goings-on in the Ryan family bedroom. The Jets would get there in the end, because that's what they've done since Ryan got here.
And now here they are, with a 9.7 percent chance of making the playoffs, according to coolstandings.com. (That actually even sounds a little high.) The whole Jenga's collapsing now, with talk of firings and visions of Peyton Manning. There are even the "is this LaDainian Tomlinson's last game?" stories. Everything we've come to know and love and hate about the Jets is about to change. Rex Ryan will be less lovable, Mark Sanchez will be less "poised," and the "not the same old Jets" meme will be less, you know, true.
Unless they can catch a break and sneak into the playoffs again. Unless everything falls right for them once again, like it did two years ago. If they can somehow sneak in, they'll face an extremely beatable Houston Texans team in the first round, and then … who knows? They have a chance to add to their résumé of late-season and playoff ridiculousness, if the football gods have one more gift for them. It's highly improbable, but it always has been, hasn't it? Maybe there's one more rabbit left. Maybe we don't have to let go of the Jets fun just yet. Maybe? Maybe?